1 Dead, Six Injured In Fiery Crash Near Congress Avenue In Lake Worth
One person is dead and six are in the hospital after a multi-vehicle auto crash near Congress Avenue, according to Palm Beach County Fire Rescue.
Rescue Crews were called to a multiple-vehicle crash near Melaleuca Lane and Congress Avenue involving multiple vehicles. The crash involved two semi trucks and a car. The car went up in flames after a head-on collision with a semi. The car driver was fatally injured. First emergency responders arrived at the scene shortly after the crash happened.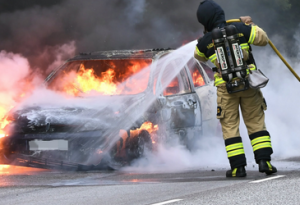 Several people were trapped inside a vehicle that was on fire, according to Capt. Albert Borroto, the spokesperson for Palm Beach County Fire Rescue.  The first responders tried there best to save all but one person was found dead at the scene. Five people were taken to local trauma hospitals for their injuries.  On other person who was injured was treated and released at the scene, Borroto said.
The Palm Beach County Sheriff's Office said east and westbound Melaleuca is shut down at this time as investigators document the scene. It's unclear how long the road will be closed.
Authorities have not identified the person that was killed. The exact cause of the crash is unknown at this time but speed and failure to yield right of way may have contributed to the fiery crash, officers said.
West Palm Beach attorney Jason Weisser of Schuler, Halvorson, Weisser, Zoeller and Overbeck responded about the crash.  "Cases involving accidents with commercial trucks are always subject to heightened scrutiny because of the additional regulations placed on drivers of those vehicles. Unfortunately in our practice,  we have seen numerous instances where drivers blatantly violate these regulations, which results in catastrophic consequences. If you've been injured in an accident, make sure you are properly represented by an experienced trial accident attorney.  Please call my office for a free consultation." ".
Powered by WPeMatico