18-Month-Old Child Flown To Hospital After Accident in Port St. Lucie
An 18-month-old child was struck by a vehicle after he ran down the driveway in Port St. Lucie County.
According to Port St. Lucie Police Spokesman, Master Sgt. Frank Sabol, the boy apparently ran down a driveway in the 200 block of Southwest Voltair Terrace and was struck by a vehicle. The driver of the vehicle, a man, stopped, Sabol said.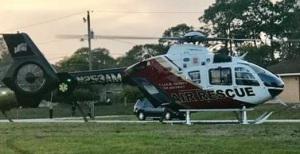 First emergency responders arrived at the site of the crash soon after the accident happened and the young boy was flown with a helicopter to a hospital after the crash.  The police spokesman said the boy's injuries were not life-threatening and he is expected to make a full recovery.  It is unknown at the time of this report if the parents of the child were nearby at the time of the crash or not.
The identity of the child is yet to be released by the authorities. This is a vehicle crash with injuries said the Sheriff's office. The cause of the crash is being investigated.
The route is partially closed at the moment due to the severity of the crash and emergency crews working to investigate the crash. This has led to a snarl of traffic. Vehicles on this route are pulling to the roadside to allow crews work. Some are pulling into nearby side streets. It is best to use an alternative route.  Please drive with caution and stay safe.
Comments:
Attorney Jason Weisser of Shuler, Halvorson, Weisser, Zoeller and Overbeck comments on this accident in Port St. Lucie:  "This accident again illustrates why drivers have to be so conscientious of pedestrians to avoid tragedies like this.  It appears at this time that the driver of the vehicle was not at fault.  We will have to wait for the final report.  Either way it is very sad when a child is injured in any way.  If you have been involved in an accident and want to know what your legal rights are, please contact my office for a free consultation".
Powered by WPeMatico