2 Passengers Hospitalized After Four-Car Rollover Crash on Crosstown Pkwy & Cameo Blvd
A rollover accident in Port St. Lucie involving four cars has left a man and a woman injured and hospitalized.
According to the authorities, two people – a man and a woman – were transported to a local hospital after four cars were involved in a rollover crash. Both victims suffered serious life-threatening injuries. In total, there were eight passengers according to fire officials.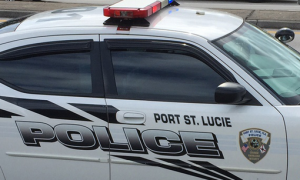 The St. Lucie County Fire District responded to the crash at the intersection of Crosstown Pkwy & Cameo Blvd. after receiving several calls. First emergency responders arrived at the scene of the accident shortly after the crash happened.
The passengers who were transported to the hospital suffered life-threatening injuries. A few other passengers suffered minor injuries and were treated on the scene by Rescue Crew. They were released to go home afterwards.
The cause of the crash is unknown. A Police Chief stated that Speed and Driving Under Influence (DUI) might have possibly contributed to the crash. An investigation is ongoing to ascertain the cause of the crash.
No further information is available about the identities of the accident victims or drivers involved.
The intersection of Crosstown Pkwy & Cameo Blvd is partially closed at the moment due to the severity of the crash, causing traffic delays. Vehicles traveling on either of the two roads near the scene of the accident are pulling to the roadside to allow crews work. Some are pulling into nearby side streets. The delay of traffic on this route is due to the severity of the crash. It is best to use an alternative route.
Please drive with caution and stay safe.
Comments:
South Florida personal injury attorney Jason Weisser of Schuler, Halvorson, Weisser, Zoeller and Overbeck responded to this accident.   "This was a major crash in Port. St. Lucie.  We hope that all of the victims involved get the proper medical care and that they have a speedy recovery.  Please be careful and obey the speed limits and traffic lights whenever you are driving a motorcycle, car, SUV or truck.   If you have been injured in an accident, call my office for a free consultation to find out what are your rights".
Powered by WPeMatico