3 Injured In Semi-Truck Accident On I-95 In Palm Beach Gardens
An accident with injuries involving a semi tractor trailer has spilled debris across Interstate 95 in Palm Beach Gardens, slowing the commute for many drivers.
The wreck which occurred in the southbound lanes north of  Northlake Boulevard left three people with serious injuries. First emergency responders arrived shortly after the accident happened. Both drivers and one passenger were injured in the accident and were taken to St. Mary's Medical Center.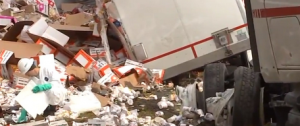 The accident happened after a semi-truck traveling in the southbound lanes near Northlake Boulevard collided with another vehicle. There was heavy damage to the front of the semi-truck.  The trailer of the semi was ripped open, causing the contents to spill onto the road.
There was a lot of debris on the road related to the accident. Because of the debris, two left lanes on both northbound and southbound had to be closed during the cleanup. The Florida Highway Patrol and clean-up crews are at the scene using a Bobcat to clean up the mess.
It's unclear when the debris will be totally cleared and traffic will be back to normal. No further information is available about the accident.
Comments:
Accident attorney Jason Weisser of Schuler, Halvorson, Weisser, Zoeller and Overbeck responded to this accident on I-95:   "This is serious accident with injuries in Palm Beach Gardens.   We hope for everyone's sake that it can be quickly discovered what the cause was.  It has not been reported yet which vehicles driver caused the accident.  Please be careful and obey the speed limits whenever you are driving a motorcycle, car, SUV or truck. This is especially true when there are children in the area.  We hope that all parties involved consult with an experienced trial lawyer.  If you have been injured in an accident, call my office for a free consultation to find out what are your rights".
Powered by WPeMatico