4 Hospitalized After Tri-Rail Bus, SUV Crash On SE 6th St. In Fort Lauderdale
Four people were hospitalized when a Tri-Rail commuter bus and another vehicle were involved in a crash in downtown Fort Lauderdale.
The crash happened at 100 SE Sixth Street near Broward County's courthouse complex.  The driver of a Range Rover SUV was driving the wrong way down a one-way street when he collided with a Tri-Rail commuter bus with two passengers on board.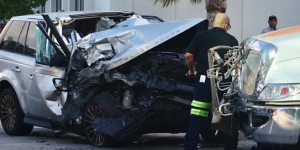 The driver and two passengers were the only people on the Tri-Rail bus. All the three people suffered varying degrees of injuries, according to Fort Lauderdale Fire Rescue Battalion Chief Greg May.
The Range Rover SUV partially flipped in the crash. Rescue workers had to use special equipment to get the driver out. He was taken to the hospital with potentially serious injuries.  The three people on the commuter bus as well as one person from the other vehicle, an SUV, were taken to Broward Health Medical Center, May added.
The driver of SUV was ticketed for driving the wrong way down a one-way street.  This according to Fort Lauderdale police spokeswoman, Detective Tracy Figone.   The cause of the crash is still under investigation and the road, temporarily closed.
This was a serious crash in Fort Lauderdale  involving a commuter bus and a Range Rover SUV.  It has let to traffic delays. Vehicles on this route are pulling to the roadside to allow crews work. It is best to use an alternative route.
Comments:
Attorney Jason Weisser of Shuler, Halvorson, Weisser, Zoeller and Overbeck comments on this accident in Ft. Lauderdale:  "This accident again illustrates why drivers have to be so conscientious of the route they are taking.  It is very easy to get confused and not follow road signs.  We hope that the driver of the Range Rover was not driving while being distracted.  We also hope that the injured people on the bus consult with an experienced trial attorney.   In our practice we see far too many accidents with injures and deaths from distracted driving.   If you have been involved in an accident and want to know what your legal rights are, please contact my office for a free consultation".
The post 4 Hospitalized After Tri-Rail Bus, SUV Crash On SE 6th St. In Fort Lauderdale appeared first on Traffic Center.
Powered by WPeMatico