6 Injured After Multi-Car Crash In North East Miami-Dade
Six people were injured in a two-vehicle crash the intersection of at Northeast 150th Street and Northeast Sixth Avenue, Miami-Dade Fire Rescue said.
Two people suffered serious injuries, while four people suffered non-life-threatening injuries.  A black SUV was driving across NE 150th Street where there was no stop sign when a grey Chevrolet came down NE Sixth Avenue, ran a stop sign and crashed into the corner of a SUV.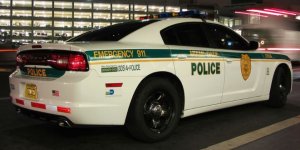 Upon impact the rear drivers-side door of the SUV came open. One person was ejected, landing near on a patch of grass by the roadside. A wheel came off the SUV and rolled, coming to rest near the motionless person.
The driver of the SUV also sustained serious injuries. A woman that as a passenger in the SUV was injured when the security gate the SUV ran into crumpled.
A Miami-Dade police officer and firefighters arrived soon after the crash to render aid to the victims.  Among those injured was a 13-year-old girl who was more seriously hurt and was airlifted to Jackson South Medical Center.  A toddler was also involved in the crash, but the child's injuries were unknown. The toddler and four other injured people were also transported to Jackson South Medical Center.
Traffic is delayed. Investigations are ongoing to ascertain the cause of the crash.
Accident attorney Jason Weisser of Schuler, Halvorson, Weisser, Zoeller and Overbeck responded to this unfortunate crash:   "This is a tragic accident here in South Florida.  It is especially unsettling to see victims hurt this bad.  We hope that everyone involved makes a speedy recovery and their injures are not permanent.   Please be careful whenever you are driving a motorcycle, car, SUV or truck.  If you have been injured in an accident, call my office for a free consultation to find out what are your rights".
The post 6 Injured After Multi-Car Crash In North East Miami-Dade appeared first on Traffic Center.
Powered by WPeMatico