Accident Injures 4 At Okeechobee Blvd & Military Trail In West Palm Beach
All eastbound lanes on Okeechobee Blvd. and northbound lanes of Military Trail are blocked following a crash that injured four people in West Palm Beach.
The collision happened at the intersection of Okeechobee Blvd. and Military Trail in West Palm Beach due to disabled traffic lights, according to the Palm Beach County Sheriff's Office.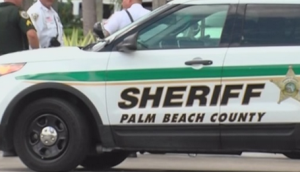 A 57-year-old man and three others suffered injuries in the crash. A Chevrolet Malibu crashed into a Nissan Maxima at the dangerous intersection, according to an official traffic crash report. The man was eastbound on Okeechobee Boulevard when he attempted to turn left to go northbound on Military. As he turned left, authorities said he hit the front of the Nissan that was headed west on Okeechobee. His car hit a utility pole on the northwest corner of the intersection.  He then came to rest in southbound lanes of traffic, according to the report.
Authorities confirmed there was a weather-related power outage in the area.  But it was noted that both the man and the 17-year-old driver of the Maxima should have stopped.  He should waited at the intersection before proceeding. According to Florida law, drivers of vehicles approaching an intersection where traffic lights are inoperative must stop as if the intersection were a four-way stop.
The injured driver, his 15-year-old passenger and the two teens in the Nissan were all taken to St. Mary's Medical Center, PBSO officials said. The driver of the Nissan and a passenger were in serious condition, according to investigators.
Neither alcohol nor drugs seem to be a factor in the crash, according to the report.  Palm Beach County's traffic operations division does not have further information about the crash at this time, staff said.
Comments:
Accident attorney Jason Weisser of Schuler, Halvorson, Weisser, Zoeller and Overbeck responded to this unfortunate accident in West Palm Beach:   "This is a tragic accident here in Palm Beach County.  We hope that the investigation is completed in a swift manner.  Please be careful whenever you are driving a motorcycle, car, SUV or truck.  If you have been injured in an accident, call my office for a free consultation to find out what are your rights".
Powered by WPeMatico