Bicycle Rider Struck, Killed In Crash On Barber Bridge In Vero Beach
A bicyclist is hurt after he was struck by a vehicle on the Merill Barber Bridge, police said.
Police got a call about a vehicle striking a bicyclist on westbound Barber Bridge, near Indian River Boulevard, police spokeswoman Megan DeWitt said.  An eyewitness and a motorist identified as Tim Graham said he witnessed the fatal crash while driving on Barber Bridge. He stated that the crash happened just before the entrance to the westbound part of the bridge.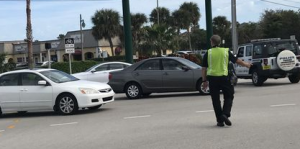 A middle-aged man driving westbound in a red Camry lost control of the car and struck the bicyclist. The impact knocked him off his bicycle unto the highway. The bicyclist sustained fatal injuries in the crash.
First emergency responders arrived at the site of the crash soon after the crash happened.
Paramedics transported the bicyclist from the scene of the crash and took him to to the Indian River Medical Center in Indian River, Fire Rescue Assistant Chief said.
Further details on the crash and bicyclist also were not available.
This is the second deadly crash this week that has occurred in Indian River County.  Motorists are experiencing long delays in traffic from the crash. This traffic congestion led to more accidents, which were minor, on State Road A1A, eastbound 17th Street at the base of the bridge and on U.S. 1, police said.  Westbound lanes on the Barber Bridge are closed. Indian River Boulevard is closed between 37th Street and Royal Palm Boulevard, DeWitt said.
Eastbound traffic will not be able to cross the bridge because of the closing of Indian River Boulevard.   Traffic on the 17th Street bridge and on State Road A1A was heavy and moving slowly about 4 p.m. Details on when all roads will reopen were not available.  Police are investigating the cause of the crash.
Comments:
Attorney Jason Weisser of Shuler, Halvorson, Weisser, Zoeller and Overbeck responded to this unfortunate accident:   "This is a tragic accident that resulted in a death to a man while riding his bike.  Please always be extra careful to avoid collisions with bicyclists.   Whenever you are driving a motorcycle, car, SUV or truck pay attention to the road.  If you have been injured in an accident, call my office for a free consultation to find out what are your rights".
The post Bicycle Rider Struck, Killed In Crash On Barber Bridge In Vero Beach appeared first on Traffic Center.
Powered by WPeMatico