According to the Palm Beach County Sheriff's Office, Irene Dworkin was killed in a major car accident.
The crash happened close to the intersection of Gateway Boulevard and Jog Road.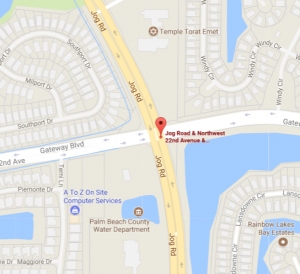 A 2018 Nissan Altima was driving southbound on Jog Road and entered the left turn lane to eastbound Gateway Boulevard according to PBSO
A 2012 Chevrolet Cruze was traveling north in the center lane of Jog Road directly behind a 2015 Honda Accord in the same lane within the intersection of Gateway Boulevard and Jog Road.
The Altima turned into the path of the Chevy Cruze that Ms. Dworkin was passenger, within the intersection.
The driver's front of the Altima violently struck the driver's front of the Chevy Cruze, which then ran into the Accord.
Irene Dworkin, was traveling in the front seat of the Cruze when it was hit by the Altima and died from  from complications of her injuries.
The three drivers of the cars received minor injuries.  The intersection of Jog Road and Gateway Boulevard was closed for almost 3 hours as first responders worked to clear the scene.  The Palm Beach Sheriffs Office was directing vehicles to take an alternate route around this crash.