One Injured After Car Smashes Into Salon In West Palm Beach
One person is being treated at a hospital after a car smashed through the windows of a salon.
The West Palm Beach Fire Department reported that two vehicles were involved in an incident that left one car smashed at the entrance of a business on 223 South Olive Avenue.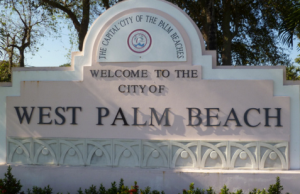 One of the two cars was a Porsche Panamera. Its driver lost control of it, sped into the intersection and ran a stop sign. It crashed into the rear of the passenger side of a Honda. The impact of the crash slammed the Honda into a nearby beauty salon. The headlights of the Panamera were turned off which may be possibly due to the violent collision, investigators said in their crash report. The cause of the crash is under investigation.
The front end of the luxury vehicle was badly damaged, PBSO said. The sheriff's office did not release a description of the driver.
The Honda crashed into a beauty salon. The business is called O! Hair and Color. Fire rescue says the building was lucky because the car didn't damage the structure, only the windows.
'A person was injured as a result of the crash and had to be transported to the hospital by ambulance. The extent of the injuries is unknown at the moment,' said WPBFD.
First emergency responders arrived at the site of the crash soon after the accident happened and the victim was transported to the hospital for treatment.
This route is partially closed due to the severity of the crash, causing traffic delays. It is best to use alternative routes.
Comments:
West Palm Beach attorney Jason Weisser of Schuler, Halvorson, Weisser, Zoeller and Overbeck responded to this unfortunate accident with an injury:   "This is an accident that appears to have been caused by the driver of the Porsche. We do not know the reason why but it could have been because of distracted driving.  Or possibly the driver wasn't familiar with the controls on this 4 door sports car.   Please be careful whenever you are driving a motorcycle, car, SUV or truck. This is especially true when you are transporting children in your vehicle.  If you have been injured in an accident, call my office for a free consultation to find out what are your rights".
The post One Injured After Car Smashes Into Salon In West Palm Beach appeared first on Traffic Center.
Powered by WPeMatico