Two-Car Crash In Miami Leaves Teacher Dead, Police Officers Injured
A two-vehicle crash killed a teacher and two Police officers injured in Miami-Dade County.
According to officials, a black Volkswagen Passat crashed into another car occupied by Hialeah Police officers.  The officers names are Ernesto Del Valle and Daniel Garcia-Muniz.  this was in the area of East Fifth Avenue and Hialeah Drive.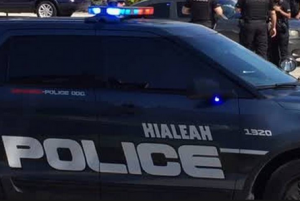 "Something terrible, like a big explosion," said Eduardo Valdes who heard the crash.
Hialeah Police confirmed that the driver of the Passat died at the scene. The injured officers were transported to Jackson Memorial Hospital.
The front of an ice cream shop in the area was left with damage due to the crash.
"Sounded like an explosion. It was really, really loud. I thought one of these huge machines had fallen because it was so loud," said Claudia Miranda.  She was in the shop at the time of the crash. "There was like smoke everywhere, and I looked outside the drive-thru window, and there was just a car in the shop."
No one at the ice cream store was injured. "They told her if the building wasn't that hard, that the car could have gone inside and something could have happened," the witness said.
Caution tape was put up around the glass blocks that were impacted. The Miami-Dade State Police Office will investigate the crash.
Investigators have blocked off parts of Hialeah Drive, causing traffic delays. It is best to completely avoid this route and make use of alternative routes.
Please drive with caution and stay safe.
Comments:
Attorney Jason Weisser of Schuler, Halvorson, Weisser, Zoeller and Overbeck responded to this unfortunate accident with injuries and one death:   "it is unclear what has caused this terrible accident.  The investigation is still under way but we hope it wasn't from distracted driving.  We also hope that the Police Officers that were injured has a speedy recovery.   If you have been injured in an accident, call my office for a free consultation to find out what are your rights".
The post Two-Car Crash In Miami Leaves Teacher Dead, Police Officers Injured appeared first on Traffic Center.
Powered by WPeMatico