1 Hospitalized In Fiery Crash In West Palm Beach On Forest Hill Boulevard
One person was hospitalized after a crash ended in flames.
Two cars crashed into each other by the intersection of Forest Hill Boulevard and Haverhill Road, Palm Beach County Fire Rescue said. The collision caused both cars to catch fire.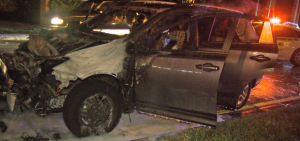 The Palm Beach Sheriff's Office says a westbound Volkswagen on Haverhill Road crashed into another car. The driver lost control of the Volkswagen, went through the traffic light and crashed into a Corolla traveling northbound on Haverhill Road. The impact of this crash caused both cars to catch fire.
This resulted in a multiple crash as a second crash happened a few minutes later in the northbound lane.
Fire rescue crews were called to the scene shortly after the accident. They were able to put out the fire but extensive damage was done to the vehicles involved.
One person was taken to the local hospital with unknown injuries.  When the severity of those injuries is released we will update this story.
The Palm Beach Sheriff's has closed the lanes for a few hours due to this crash, causing traffic delays. Vehicles are pulling to the roadside to give emergency crews access to work. It is best to avoid this route. Use alternative routes such as Sherwood Forest Blvd or Southern Blvd.
No further information is available at this time.
Comments:
West Palm Beach attorney Jason Weisser of Schuler, Halvorson, Weisser, Zoeller and Overbeck responded to this unfortunate accident with an injury:   "This is an accident that appears to have been caused by the driver of the Volkswagen.  We do not know additional information at this time.  We hope for the families sake that the investigation into the crash reveals further information.  Please be careful whenever you are driving a motorcycle, car, SUV or truck.  If you have been injured in an accident, call my office for a free consultation to find out what are your rights".
The post 1 Hospitalized In Fiery Crash In West Palm Beach On Forest Hill Boulevard appeared first on Traffic Center.
Powered by WPeMatico