Melissa Lavell, Age 31, Struck and Killed by Brightline Train
On its first day testing the tracks, one pedestrian was struck and killed by a Brightline train in Boynton Beach.
A Boynton Beach Police spokeswoman said this happened near Boynton Beach Blvd and Northeast 6th Avenue.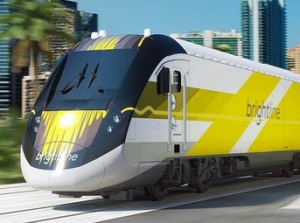 Police have identified the woman as, Melissa Lavell, 31.
According to BBPD, witnesses say Lavell was crossing the tracks after the guard rails went down in an attempt to make it across before the train. Boynton Beach Police said it's unclear why Lavell was on the tracks.
Police say the woman died from her injuries.
After a two-hour wait, passengers were removed from the train and transported by bus as police investigated the death.
Brightline was offering a VIP train ride from Fort Lauderdale to West Palm Beach at the time of the incident. No one on the train suffered any injuries.
Brightline's spokesperson commented on the tragic incident in a prepared statement:
"Brightline's team is cooperating with local authorities. This is a tragic incident, and our thoughts and prayers are with those affected. We continue to stress safety and the adherence to the rules and laws in place around active railroads."
On top of that tragic incident, Brightline has also recently dealt with delays and booking glitches.
Attorney Jason Weisser of Schuler, Halvorson, Weisser, Zoeller and Overbeck responded to this accident:   "It is a tragedy when anyone is killed because of an accident.  At this time we don't know the reason why the victim was crossing the tracks.  We hope for her families sake that all information about this incident is learned by the police.  Please also always observe all posted signs whether you are driving a car, riding a bike or walking.  If you were injured in an accident and want to discuss your rights, please contact my office for a free consolation".
The post Melissa Lavell, Age 31, Struck and Killed by Brightline Train appeared first on Traffic Center.
Powered by WPeMatico