Turnpike Motorcycle Crash Leaves One Seriously Injured in St. Lucie Cnty
A man is in serious condition after a motorcyclist collided with a vehicle on the Florida Turnpike near Fort Pierce, according to the St. Lucie County Fire District.
 "At 11:13 am crews responded to a motorcyclist down after a collision with a vehicle at mm159 of the turnpike. One male transported by air to a local trauma hospital in serious condition. Responding with Air Rescue: R1, E1, E11, FTO1, and DC1," St. Lucie County Fire District reported on Facebook.
Shortly after the accident, crews were called to the accident near mile marker 159. The injured man was transported by helicopter to the hospital, according to the post.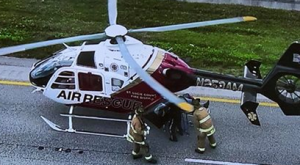 The man's identity and other circumstances of the crash were not immediately available.
All lanes on Florida's Turnpike were closed, according to the Florida Highway Patrol's traffic tracker.
The temporary closure of all lanes on the Turnpike as a result of the severity of the crash is causing traffic delays. Vehicles on this route are pulling to the roadside to allow emergency crews work. The delay of traffic on this route is due to the severity of the crash. It is best to use an alternative route.
This story will be updated.
Please drive with caution and stay safe.
Comments:
West Palm Beach attorney Jason Weisser of Schuler, Halvorson, Weisser, Zoeller and Overbeck responded to this unfortunate accident:  "This is a tragic accident on the Turnpike with one motorcycle rider that was seriously injured.  We hope for all involved that it can be quickly discovered what the cause was.  Please be careful whenever you are driving a motorcycle, car, SUV or truck.  Also, make sure you wear a helmet and follow the posted speed limits when riding a motorcycle.  If you have been injured in an accident, call my office for a free consultation to find out what are your rights".
The post Turnpike Motorcycle Crash Leaves One Seriously Injured in St. Lucie Cnty appeared first on Traffic Center.
Powered by WPeMatico