1 Dead, 14 Hurt After Casino Shuttle Boat Catches Fire
One person is dead and 14 others injured after a fire engulfed a casino shuttle boat off Florida's Gulf Coast.
The casino cruise ship had 50 people on board when it caught fire. This forced passengers and crew to jump into the chilly waters in an attempt to escape.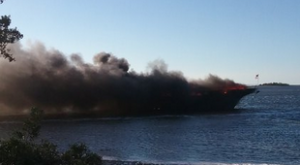 Police Chief Gerard DeCanio said the shuttle boat experienced engine problems after leaving the dock. But as the vessel turned back, flames kicked up and people began jumping overboard into shallow water, according to witness accounts.
The shuttle boat caught fire quickly engulfing the boat close to shore near residential neighborhoods. This sent a huge plume of dark black smoke wafting in the skies.
All 50 passengers aboard the Sun Cruz casino ship made it safely to shore where they were treated by emergency rescue crews, according to the Sheriff's Office.
The woman died shortly after she arrived at the hospital's emergency room. Her name has not been released and a cause of death has not been determined. Eight other passengers were treated at the hospital.
Authorities said the Coast Guard, sheriff's office, police and other agencies took part in rescue operations.
The Sheriff's Office, as well as other agencies, are investigating this tragedy.
Accident attorney Jason Weisser of Schuler, Halvorson, Weisser, Zoeller and Overbeck responded to this unfortunate accident with an injury:   "This is an unusual accident here in Florida. At this time we don't know what caused the boat to catch fire.  It is very sad that there was a death and so many injuries.  We hope that all involved will discuss their terrible experience with an experienced trial lawyer.  They should find out if they are entitled to compensation.  If you have been injured in an accident, call my office for a free consultation to find out what are your rights".
The post 1 Dead, 14 Hurt After Casino Shuttle Boat Catches Fire appeared first on Traffic Center.
Powered by WPeMatico