Armando Lopez Dies in Northbound I-95 Crash in Broward County
A man died in a two-vehicle crash on Interstate 95 near Pompano Beach, snarling traffic for hours, officials said.
A box truck and a tractor-trailer collided in the northbound lanes of I-95 after the exit to West Cypress Creek Road, according to Florida Highway Patrol spokesman Lt. Alvaro Feola.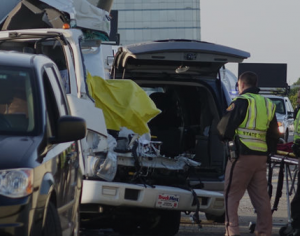 The crash and investigation blocked three left lanes.
Armando J. Lopez, 38, of Coral Springs, died in the crash, Feola said. The other driver, a 39-year-old man of Hallandale Beach, was not injured.
The man was northbound when the crash occurred. He was traveling at a speed well above the posted speed limit according to the Florida Highway Patrol.
The roadway was wet from a recent rain shower and the tires on his vehicle had low tread depth. He lost control and the vehicle struck a box truck.
Troopers said the crash is still being investigated.
First emergency responders arrived at the site of the crash soon after the accident happened.  The victim was transported to a nearby Medical Center where he was pronounced dead.
This route is partially closed at the moment due to the severity of the crash, causing traffic delays. Vehicles on this route are pulling to the roadside to allow crews work.
Please drive with caution and stay safe.
Accident and Injury attorney Jason Weisser of Schuler, Halvorson, Weisser, Zoeller and Overbeck responded to this unfortunate accident on I-95:   "This is a tragic accident in Broward County.  It appears that the driver of the Box Truck was at fault.   We hope that the family of Mr. Lopez contacts an experienced trial lawyer.   Speeding while driving with worn tires is not a good combination. Please be careful whenever you are driving a motorcycle, car, SUV or truck.   If you have been injured in an accident, call my office for a free consultation to find out what are your rights".
The post Armando Lopez Dies in Northbound I-95 Crash in Broward County appeared first on Traffic Center.
Powered by WPeMatico