Roll-over crash blocks traffic on FL.Turnpike in West Palm Beach
A rollover crash has one left lane blocked on the Fla. Turnpike southbound near Southern Blvd.
The rollover crash involving two cars injured three people, the Florida Highway Patrol said.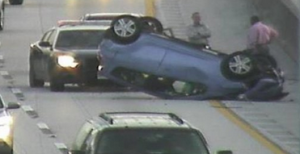 A Mercedes was traveling northbound when it struck another car.
The roadway was wet from a recent rain and the tires on the Mercedes had low tread depth. The driver lost control of the vehicle and struck another car, causing the car to roll over.
First emergency responders arrived at the site of the crash soon after the accident happened.  Palm Beach County Fire Rescue said all three people, which included two adults and one child, were transported to a local hospital for treatment.  It's unclear what caused the wreck. Troopers said the crash is still being investigated.
One southbound lane of Florida's Turnpike is blocked after the wreck near the Southern Blvd exit in Palm Beach, causing traffic delays. Vehicles on this route are pulling to the roadside to allow crews work. The delay of traffic on this route is due to the severity of the crash. It is best to use an alternative route.  I-95, Jog Road, Highway 441 or Military Trail are your best choices.
Palm Beach County attorney Jason Weisser of Schuler, Halvorson, Weisser, Zoeller and Overbeck responded to this unfortunate accident:   "This is a serious accident here in Palm Beach County.  It is especially violent when a car rolls over.   It appears that worn tires were a factor in this crash.  We hope for the families benefit that the investigation is quick and they can get a final accident report.   Please be careful whenever you are driving a motorcycle, car, SUV or truck.   Also make sure you do proper maintenance on your vehicle.  If you have been injured in an accident, call my office for a free consultation to find out what your rights are".
The post Roll-over crash blocks traffic on FL.Turnpike in West Palm Beach appeared first on Traffic Center.
Powered by WPeMatico