Rollover Crash Blocks I-95 At 45th Street In West Palm Beach
 At least two people were critically injured in a rollover crash on a northbound lane of I-95 at 45th Street in West Palm Beach, troopers say.
Crews had to shut down all but one lane due to the rollover crash.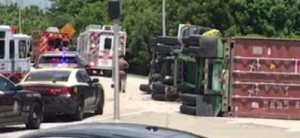 Even though circumstances surrounding the crash were not immediately known, there was clue.  Trafficc cameras showed a car on its roof as a result of the crash. This is a vehicle crash with injuries said the Florida Highway Patrol.  The cause of the crash is being investigated.
First emergency responders arrived at the site of the crash soon after the crash happened.  The crash victims were taken to St. Mary's Medical Center for treatment.
One of the northbound lanes of I-95 is closed at the moment at 45th Street.  This is a popular exit off of I-95 with commuters using it to go east south Riviera Beach and west to get to all of the western communities.  Vehicles on this route are pulling to the roadside to allow crews work. Traffic is delayed in all lanes including the HOV lane.
The delay of traffic on this route is due to the severity of the crash. It is best to exit the Interstate 95 via W Blue Heron Blvd in the north and Palm Beach Lakes Blvd in the south.
Please drive with caution and stay safe.
West Palm Beach attorney Jason Weisser of Schuler, Halvorson, Weisser, Zoeller and Overbeck responded to this unfortunate accident:   "This is a tragic accident here in Palm Beach County.  We hope for the families sake that it can be quickly discovered what the cause was.   We hope that Ms. Vernon and her passenger work with an experienced trial lawyer.  Please be careful whenever you are driving a motorcycle, car, SUV or truck.  If you have been injured in an accident, call my office for a free consultation to find out what are your rights".
The post Rollover Crash Blocks I-95 At 45th Street In West Palm Beach appeared first on Traffic Center.
Powered by WPeMatico