Several Injured In Florida Turnpike Crash Near Palm Beach Gardens 
Several people have been injured in a two-vehicle crash near Palm Beach Gardens exit of Florida's Turnpike, troopers report.
Fire Rescue was called to the scene of the crash involving an SUV that rolled over in the southbound lanes near Palm Beach Gardens.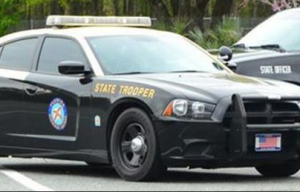 The Florida Highway Patrol closed the southbound lanes of Florida's Turnpike after the crash to allow crews work.
Fire Rescue personnel said two teenagers were ground-transported to St. Mary's Medical Center, and one woman and one child were taken by air rescue to trauma hospitals.
The SUV was reported to have hit a Sedan before skidding and rolling over, according to an eyewitness' report. The Sedan hit a guardrail and drifted off the road. The drivers and their passengers sustained injuries.
This is a vehicle crash with injuries said the Florida Highway Patrol.  The cause of the crash is being investigated.  This story will be updated as more information is released.
Florida's Turnpike is closed at the moment due to the severity of the crash. Vehicles on this route are pulling to the roadside to allow crews work.  It is best to use an alternative route.  The best alternate routes to get around this accident are to exit the Turnpike at Indiantown Rd. if you heading south.  Then you can take I-95 to head south into West Palm Beach.
Please drive with caution and stay safe.
West Palm Beach attorney Jason Weisser of Schuler, Halvorson, Weisser, Zoeller and Overbeck responded to this accident:   "This is a tragic accident here in Palm Beach County.  At this time it is unclear what actually caused the accident.  We hope that it wasn't from distracted driving.  We hope that her family contacts an experienced accident lawyer.  If you have been injured in an accident, call my office for a free consultation to find out what are your rights".
The post Several Injured In Florida Turnpike Crash Near Palm Beach Gardens  appeared first on Traffic Center.
Powered by WPeMatico