Jeffery King, Killed By Brightline Train In Boynton Beach
A man was hit and killed by a Brightline train while riding his bike in Boynton Beach police said.
Police identified the man as Jeffrey D. King, 51, of Boynton Beach.
The incident happened on the FEC tracks by the intersection of Ocean Avenue and 4th Street.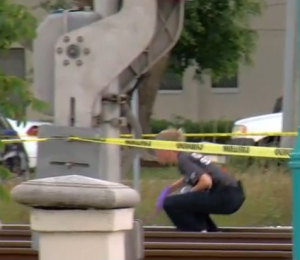 Investigators say King was traveling westbound on East Ocean Avenue and pedaled around downed gates as the train was approaching.
Boynton Beach Commissioner Joe Cosello is concerned with the second fatality in 5 days.
"Brightline now sending high-speed trains 32 times a day through heavily populated corridors I'm concerned these kind of incidents are going to become more frequent," Cosello said.
Cosello also said that Brightline had not addressed all safety issues when operating a high-speed train in the city.
"My fear is that once these crossings become quite zones these type of incidents will become the norm," said the commissioner.
Cosello said he will make an official request to address safety concerns at all crossings.
A Brightline spokesperson issued this statement in response to the crash:
"Local authorities are on the scene, and we are engaged with them as they begin their investigation."
The severity of the crash has led to traffic delays.  Avoid the area and make use of alternative routes.
Comments:
Attorney Jason Weisser of Schuler, Halvorson, Weisser, Zoeller and Overbeck responded to this accident:   "It is a tragedy when anyone is killed because of an accident.  At this time we don't know the reason why the victim was crossing the tracks.  It is disturbing that this is the second death in 5 days and the fourth since Brightline began testing. We hope for his families sake that all information about this incident is learned by the police.  Please also always observe all posted signs whether you are driving a car, riding a bike or walking.  If you were injured in an accident and want to discuss your rights, please contact my office for a free consolation".
The post Jeffery King, Killed By Brightline Train In Boynton Beach appeared first on Traffic Center.
Powered by WPeMatico