A Person Died After Toyota Camry Crashes Into School Bus in Pembroke Pines
.  A driver died in Pembroke Pines after slamming into the rear of a school bus at a traffic light.
According to Pembroke Pines Police, the Broward County School Bus driver was stopped at a red light at 10000 Pembroke Road.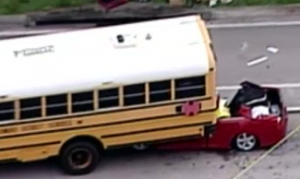 After which the driver of a 2013 red Toyota Camry came up behind the bus and crashed into the rear of the bus. The Camry became wedged and pinned under the bus.
First emergency responders arrived at the site of the crash soon after the crash happened. The driver of the Camry, a 36-year-old man, died at the scene. His passenger in that car, 55-year-old Claude Murray Jr., was transported to Memorial Regional Hospital with serious injuries.
There were no students on the school bus at the time of the crash, police say.
The driver of the school bus was not injured.
Pembroke Road westbound was closed between Douglas Road and Palm Avenue as officials responded to the crash. This has led to a delay in traffic. It is best to avoid this route and make use of alternative routes.
Attorney Jason Weisser of Schuler, Halvorson, Weisser, Zoeller and Overbeck responded to this unfortunate accident:   "This is a tragic accident here in Broward County.  Please be careful whenever you are driving a motorcycle, car, SUV or truck.  If you have been injured in an accident, call my office for a free consultation to find out what are your rights".
School Bus Safety
Motorists must stop at least 10 feet away from school buses that have their red lights flashing and stop arm extended.

Motorists must stop when they are behind a bus.  This true if they are meeting the bus or approaching an intersection where a bus is stopped.

Motorists following or traveling alongside a school bus must also stop.  This is until the red lights have stopped flashing, the stop arm is withdrawn.  And, of course when all children have reached safety.

If physical barriers such as grassy medians, guide rails or concrete median barriers separate oncoming traffic from the bus, motorists in the opposing lanes may proceed without stopping.

Do not proceed until all the children have reached a place of safety.
The post A Person Died After Toyota Camry Crashes Into School Bus in Pembroke Pines appeared first on Traffic Center.
Powered by WPeMatico