Two Hospitalized After Man Intentionally Rams Car in Northwest Miami
A rollover crash in Northwest Miami-Dade left two women injured.
Miami-Dade Police responded to the crash along Northwest 108th Street and Seventh Avenue, where a vehicle was flipped over on the sidewalk.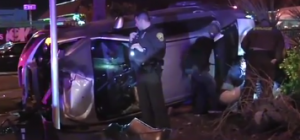 According to officials, it all started with a verbal altercation between two groups of people at the Round Table club.
"Who wanted to put their money in the jukebox first. That's how this all started off," said Albert, a friend of the victims.
One of the groups got into their vehicle and left, but witnesses said they were followed by a man who then rammed into their car causing it to flip over.
The woman on the passenger side was ejected from the vehicle.  She was transported to Ryder Trauma Center in critical condition from her injuries.  Another passenger was injured  and transported to Larkin Hospital and is listed in stable condition.
"And a lady was screaming. I mean real loud for like 15 minutes," said witness William Tidwell. "I didn't know what was going on."
A witness, Karena Solomon, saw the whole scene unfold. "They hit them, they hit them," said Solomon. "We got here and one was ejected, clinging to life. [Another one] is still in shocked, she climbed out. The other one they took, she was ejected also but just with a lot of cuts. It's just bad."
Police said they have detained the suspect responsible for the crash. He is expected to be charged with aggravated battery.
All lanes were shut down along Northwest 108th Street at Seventh Avenue. The lanes have since reopened.
Comments:
Attorney Jason Weisser of Schuler, Halvorson, Weisser, Zoeller and Overbeck responded to this accident:   "It is a tragedy when anyone is so angry that they react in this manner.   We hope for her families sake that all information about this incident is learned by the police.   If you were injured in an accident and want to discuss your rights, please contact my office for a free consolation".
The post Two Hospitalized After Man Intentionally Rams Car in Northwest Miami appeared first on Traffic Center.
Powered by WPeMatico