Brightline Train Strikes Another Person In Fort Lauderdale, Third This Week
A third person has been hit by a Brightline train, according to Fort Lauderdale Police, the third instance in just over a week.
The incident occurred after a person walking tried to run to get across the tracks past an oncoming train at Northeast Third Avenue and North Flagler Drive, said Detective Tracy Figone, Fort Lauderdale Police Department spokeswoman.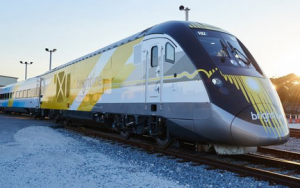 The man was attempting to cross the FEC tracks at Flagler and NE 3rd Avenue. In an attempt to beat the high-speed train across the tracks, he walked around the down gates and ignored the lights that were flashing.
Figone says the train stopped and the man was taken to a nearby hospital for evaluation. His injuries were non-life threatening.
Responding to the incident in a statement, a Brightline spokesman said: "Incidents like these can be avoided and train warnings need to be treated exactly like red lights, stop signs and crosswalks."
Police say the train is back in service.  It will be recalled that a man, Melissa Lavell of Boynton Beach, recently died on the Brightline tracks while riding his bicycle. Soon after that, a woman named Jeffrey D. King also of Boynton Beach was also struck and killed by one of the trains.
Brightline reports that there were two deaths prior to the start of service and has vowed to ramp up safety efforts as political pressure mounts after fatalities
Lawmakers are calling for an investigation into safety precautions for the high-speed train service.
Attorney Jason Weisser of Schuler, Halvorson, Weisser, Zoeller and Overbeck responded to this accident:   "It is a unfortunate that there have been so many accidents with Brightline trains.  We hope that Brightline can try to do something to help to educate the public on the speed of these trains.  Please always observe all posted signs whether you are driving a car, riding a bike or walking.  If you were injured in an accident and want to discuss your rights, please contact my office for a free consolation".
The post Brightline Train Strikes Another Person In Fort Lauderdale, Third This Week appeared first on Traffic Center.
Powered by WPeMatico