Pedestrian Hit By Vehicle on Southeast 2nd Street In Delray Beach
A driver hit a young woman walking her dog in Delray Beach, police said.
The crash happened on Southeast 2nd street and Southeast 6th Avenue.  The woman was walking her dog on Southeast 6th Avenue when a white 4-door sedan with heavily tinted windows made a left turn and struck her, according to police.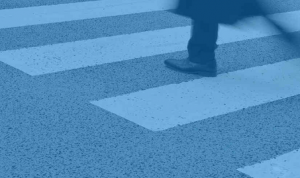 An eyewitness said the woman had the right of way and immediately rushed to the victim's aid.  "She just had so much blood coming out of her mouth, I wasn't sure how her injuries were," she said. "I was trying to get her out of the road, I wasn't sure if anything else was broken. The woman had a big wound in her leg."
"She was in panic mode," the eyewitness said. "I'm sure was not expecting it to happen. She was just walking her dog."  The victim, who is yet to be identified, sustained varied injuries in the crash.
Her two front teeth were knocked in and her nose was broken.  She had lacerations on her thigh where the car hit her and also had a fractured thumb," Delray Beach Police Department reported.
Emergency responders arrived promptly at the scene of the crash and transported the victim to Delray Memorial Hospital for treatment.
Attorney Jason Weisser of Schuler, Halvorson, Weisser, Zoeller and Overbeck comments on this accident:  "This is a serious accident that unfortunately has sent a victim to the hospital with injuries.  It appears from what was reported that the accident was caused by someone that was not paying attention.   Please don't be distracted when you are behind the wheel of a car, truck or SUV.   We hope that the victims retain proper legal council to represent them.  If you've been injured in an accident, make sure you are properly represented by an experienced trial accident attorney."
The post Pedestrian Hit By Vehicle on Southeast 2nd Street In Delray Beach appeared first on Traffic Center.
Powered by WPeMatico