3 Dead After Head-On Crash On I-95 near 10th Ave In Palm Beach County
Three people are dead following a head-on crash between two vehicles on I-95 near 10th Avenue N in Palm Beach County.
Two people were pronounced dead at the scene while the third was transported to a hospital and later pronounced dead, according to a news release from the Palm Beach County Sheriff's Office.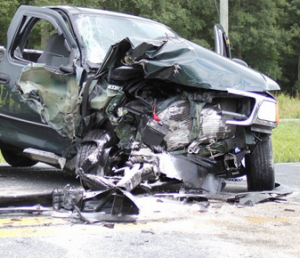 Police and emergency personnel responded to the crash. According to the release, a 40-year-old man from Boca Raton was driving a pickup truck southbound on I-95. The truck crossed the median and collided with a minivan.  The minivan was driven by a 52-year-old man from Stuart who was traveling with a 23-year-old woman.
A small fire ignited in the engine compartment of the pickup truck.  It was was quickly extinguished and was not a factor in the injuries, the release said.  All three people were trapped and had to be extricated by the Jaws of Life. The interstate was closed to allow crews work.
The names of the victims are yet to be released by the Coroner's Office, the press release said.  The Florida Highway Patrol was assisted at the scene by the Fire Department.  Also assisting were other First Responders including the Palm Beach County Sheriff's Office.
The crash remains under investigation.  Please seek an alternate route to get around this crash.  The best choices would be the Florida Turnpike, Congress Ave or Military Trail.  If you want to head further west you could also take Jog Rd. in Lake Worth.
Comments:
West Palm Beach attorney Jason Weisser of Schuler, Halvorson, Weisser, Zoeller and Overbeck responded to this unfortunate accident:   "This is a tragic accident here in Palm Beach County.  For the families sake, we hope that it can be quickly discovered what the cause was.   We also hope that experienced trial lawyers are hired to represent the victims in this crash.  Please be careful whenever you are driving a motorcycle, car, SUV or truck.  If you have been injured in an accident, call my office for a free consultation to find out what are your rights".
The post 3 Dead After Head-On Crash On I-95 near 10th Ave In Palm Beach County appeared first on Traffic Center.
Powered by WPeMatico