Teen Dead, Another Injured In Northwest 67th Ave In Miami
A teenage driver was killed and another was seriously after a crash Miami-Dade County on NW 25th Ave.
The crash happened at the intersection of Northwest 25th Avenue and Northwest 67th Street.  A 47-year-old woman was driving in the eastbound lane of the Northwest 67th Avenue when her BMW sustained a left-rear tread separation, which caused her to lose control.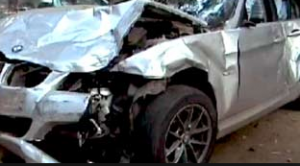 Miami-Dade Police office said a preliminary investigation revealed that the driver of the BMW was speeding when it lost control, ran a traffic light and struck the teenage driver.  "The woman sustained minor injuries," officers said.
The teenage driver was heading south on Northwest 25th Avenue with another teenage passenger when the accident happened.  First emergency responders arrived at the site of the crash soon after the crash happened.  The driver was pronounced dead at the scene and the car was towed away.
According to Miami-Dade Fire Rescue, a 14-year-old teenage passenger in the car had serious injuries and had to have extensive o have his arm amputated at the scene. The boy was then taken to Jackson Memorial's Ryder Trauma Center.  The boy's father identified him as Clinton Patterson.
The crash has caused some delay. Drivers are advised to use alternative routes.
The crash is still under investigation. When more information is released this story will updated.
West Palm Beach attorney Jason Weisser of Schuler, Halvorson, Weisser, Zoeller and Overbeck responded to this unfortunate accident:   "This is a tragic accident in Miami-Dade County.  It is especially unsettling to see a teenage victim that was pronounced dead because of the crash.   It is also sad to see that the 14 year old passenger was so seriously hurt.  Please be careful whenever you are driving a motorcycle, car, SUV or truck.  If you have been injured in an accident, call my office for a free consultation to find out what are your rights".
The post Teen Dead, Another Injured In Northwest 67th Ave In Miami appeared first on Traffic Center.
Powered by WPeMatico