Man Killed Riding Bike In Delray Beach Crash On Atlantic Blvd
A 23-year-old man was a victim of a fatal crash that occurred near I-95 on Atlantic Avenue, the Florida Highway Patrol said.
Troopers said Allen Lewis was struck by a vehicle as he attempted to cross, with his bicycle, in the 1600 block of West Atlantic Avenue.  He was struck by an eastbound 2016 Toyota Camry, police said.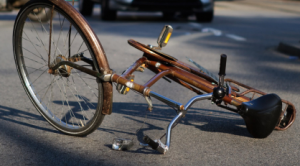 A driver, whose identity is yet to be released, was driving in his 2016 Toyota Camry when he struck Lewis, according to the FHP. The Camry then ran into a bridge barrier wall, went off the road and into a ditch.
Florida Highway Patrol responded to a call of a car crash involving a bicycle, FHP spokeswoman said.  First emergency responders arrived at the site of the crash soon after the crash happened. The victim was promptly transported to Delray Medical Center where he was pronounced dead on arrival.
"Lewis died at Delay Medical Center. The driver of the Toyota Camry remained at the scene and cooperated with investigators," FHP spokeswoman said.  The cause of the crash is still under investigation, according to the report.
The temporary closure of this route is due to the severity of the crash and has led to traffic delays. Vehicles on this route are pulling to the roadside to allow crews work. It is best to use an alternative route.  The best alternate route would be to use Linton Blvd.
Please drive with caution and stay safe.
Attorney Jason Weisser of Shuler, Halvorson, Weisser, Zoeller and Overbeck responded to this unfortunate accident in Delray Beach:   "This is a tragic accident that resulted in a death to a man while riding his bike.  Please always be extra careful to avoid collisions with bicyclists.   Whenever you are driving a motorcycle, car, SUV or truck pay attention to the road.  If you have been injured in an accident, call my office for a free consultation to find out what are your rights".
The post Man Killed Riding Bike In Delray Beach Crash On Atlantic Blvd appeared first on Traffic Center.
Powered by WPeMatico