Woman Injured In A Dump Truck Vs Pickup Crash on Jog Road
A crash involving a dump truck and another vehicle on Jog Road has left at least one person injured.
Palm Beach Gardens Police say the dump truck collided with Ford F-150 at Jog Road and the Florida Turnpike.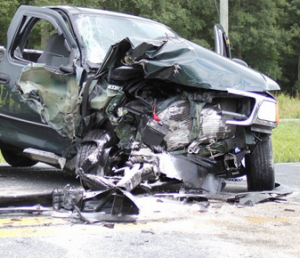 The dump truck driven by 66-year-old Pete Valencia lost control and collided with Ford F-150 driven by a middle-aged woman. The truck went several meters further before hitting a guardrail and overturned.
Authorities say one person sustained injuries to the shoulder and was transported to a local hospital for treatment.  Police and fire crews are at the scene of the crash.
"Palm Beach County Fire Rescue is responding to a crash involving a dump truck and another vehicle at Jog Road, Palm Beach," PBGPD spokesman reported.
According to PBGPD's TrafficAlert, Traffic is backed up in Palm Beach Gardens. Avoid southbound Jog Road from Northlake Blvd. The overturned dump truck is blocking all lanes. Take Military Trail as an alternate route.
This is a crash with injuries and please be advised that road will be closed for some time said the Palm Beach Garden Police Department's office. No estimates on when it would reopen.   The cause of the crash is being investigated.   Please drive with caution and stay safe.
Attorney Jason Weisser of Schuler, Halvorson, Weisser, Zoeller and Overbeck responded about the crash.  "Cases involving accidents with commercial trucks are always subject to heightened scrutiny because of the additional regulations placed on drivers of those vehicles. Unfortunately in our practice,  we have seen numerous instances where drivers blatantly violate these regulations, which results in catastrophic consequences.  At this time it appears that the dump truck driver was at fault in this crash.  If you have been injured in an accident, call my office for a free consultation to find out what are your rights".
The post Woman Injured In A Dump Truck Vs Pickup Crash on Jog Road appeared first on Traffic Center.
Powered by WPeMatico