Boyton Beach Two-Car Crash Leaves Many Injured
When A two-car crash in Boyton Beach has left multiple people injured.
The crash site is near Gateway Boulevard in Boyton Beach.
A Toyota Corolla skidded and crashed into the back white work van.  This happened on Gateway Boulevard near Boyton Beach. According to reports, several people sustained injuries in the crash.   Fortunately, no one died in the accident.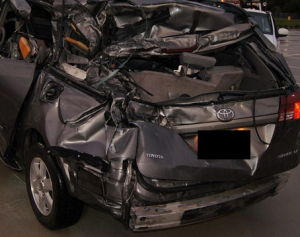 First emergency responders arrived the scene early to aid the injured victims.
This is a vehicle crash with injuries that has blocked the road, the Palm Beach County Sheriff's office reports.
The delay of traffic on this route is due to the severity of the crash.
Vehicles on this route are pulling to the roadside to allow authorities work. Some are pulling into Shell gas station and Marios' parking lot. Others are making a detour through a side street –  West Sandpiper Drive.
The traffic jam has extended to West Sandpiper Drive.
To avoid delays, we advise that you avoid this route and take alternate routes. Other alternate routes to use to get around this accident is to take Royal Manor Boulevard or Lawrence Road.
Please drive with caution and stay safe.
Comments:
Attorney Jason Weisser of Schuler, Halvorson, Weisser, Zoeller and Overbeck comments on this two car accident in West Palm Beach:  "This is a serious accident that unfortunately has sent victims to the hospital with injuries.  It appears from that the accident was caused by someone that was not paying attention to the road and rear-ended another car.  This type of accident and cause serious injuries.  Fortunately the accident happened next to a very good medical facility – Delray Medical Center.  Please don't be distracted when you are behind the wheel of a car, truck or SUV.   We hope that the victims retain proper legal council to represent them.  If you've been injured in an accident, make sure you are properly represented by an experienced trial accident attorney."
The post Boyton Beach Two-Car Crash Leaves Many Injured appeared first on Traffic Center.
Powered by WPeMatico