Brevard Deputy Kevin Stanton County Deputy Killed In I-95 Crash
A  Brevard County Sheriff's Office deputy was killed in a crash with a semi-truck on Interstate 95 southbound lane, the Florida Highway Patrol said.
According to a report by the Orlando Sentinel news website, 32-year-old Deputy Kevin Stanton was in an unmarked patrol car driving to work in Viera when a semi-truck traveling in the lane next to him suffered a tire tread separation. The truck, which was loaded with car parts, immediately swerved into the path of Stanton's patrol car. This led to a fatal crash.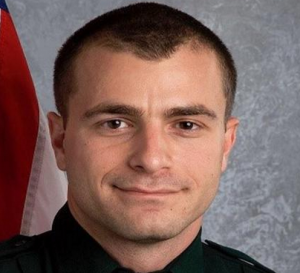 First emergency responders arrived at the scene of the accident just after the crash happened. Paramedics examined Deputy Stanton and he was declared dead at the scene.
Stanton, of Titusville, had worked for the sheriff's office for 11 years. He was a field training officer who educated new deputies, and he had received many letters of commendation, commendable services awards and was nominated for a Life Saving Award
An official statement from the Brevard County Sheriff's Office, Florida reads:
"It is with a broken heart this morning that we notify our community about the loss of one of our true heroes and BCSO family member, Field Training Officer, Kevin Stanton who died in a traffic crash on I-95 this morning.

Kevin was an incredible son, brother friend and Deputy Sheriff who will be forever missed by our entire Sheriff's Office family!!

Knowing Kevin as I do, I know that he would want everyone to pray and support his family and friends while remembering how much he loved his job!! He would also want us to pull upon each other's strength as a community as we face this tragedy and loss together!!

Once we have more information regarding services for our fallen hero we will share it with our community but for now, I ask that you keep Kevin and his family in your thoughts and prayers during this very difficult time.

I want to personally thank our community for the outpouring of support and prayers, as they lost one of their Deputies today as well. I also want to thank the Florida Highway Patrol, Titusville Police Department, Titusville Fire Department Medical Examiner's Office and Brevard County Fire Rescue for their amazing assistance and care today!! Their compassion and respect for the dignity of Kevin at the scene are appreciated more than they will ever know!! -Sheriff Wayne Ivey "
Comments:
Florida accident attorney Jason Weisser of Schuler, Halvorson, Weisser, Zoeller and Overbeck responded to this unfortunate car accident:   "It is very sad to hear that a law enforcement officer was killed in this tragic accident. It shows that no one is out of the reach of danger when you are behind the wheel of a car, truck motorcycle or RV.   We hope that all parties take the time to discuss this accident with a trial attorney.  This is the only way they will be able to fully learn about what rights they have if they were the victim in this crash.  If you have been injured in an accident, call my office for a free consultation to find out what are your rights".
Powered by WPeMatico