Brightline Crash: Another Pedestrian Injured In Wilton Manors
A Brightline train has hit yet another pedestrian – this time in Wilton Manors. This crash makes it the sixth crash involving the South Florida passenger rail line since it began operations in last year in Florida.
The crash involving the new high-speed train happened in the 1200 block of NE 24th street.  Officials have blocked off the area to investigate the crash.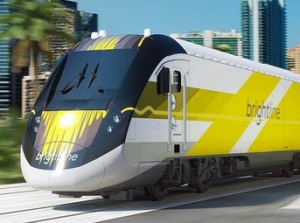 Fire officials told NBC6 that the man lay in between the tracks and not across the tracks.   This is how he escaped being killed. The train rolled over him without killing him. He, however, sustained injuries.
Jennifer Bickhardt, a spokeswoman for Wilton Manors Police, said the man appeared to have suffered a broken arm as a result of the crash. It was not immediately clear if the safety gates were down when the accident occurred, Bickhardt said.  Miami Herald reported that the unidentified man was taken to Broward General Hospital with non-life threatening injuries.
Reacting to the incident, Brightline released the following statement:
"Based on witness reports, this was an intentional act by an individual who laid on the tracks.  He did this before the train approached. We appreciate the work of our team and first responders who acted quickly to remove him safely."
It will be recalled that a man riding a bicycle around the crossing gate was killed by a Brightline train on Jan. 17 in Boynton Beach, and a woman who ducked under the gate was killed a week earlier. Another pedestrian survived being hit by the train last month.   Please take an alternate route around this crash.
Attorney Jason Weisser of Schuler, Halvorson, Weisser, Zoeller and Overbeck responded to this accident:   "It is a unfortunate that there have been so many accidents with Brightline trains.  Please always observe all posted signs whether you are driving a car, riding a bike or walking.  If you were injured in an accident and want to discuss your rights, please contact my office for a free consolation".
Powered by WPeMatico