Brightline Train Hits Car In Boca Raton at Camino Real
A man has been hospitalized after a Brightline train hit his vehicle when it stopped on the tracks, according to Boca Raton police. The crash happened at the intersection of Camino Real and South Dixie Highway.
According to eye witnesses, the car was stopped on the tracks at a red light when the gates came down. Witnesses told police that the unidentified elderly driver could not make it out of the Mercedes early and was hit.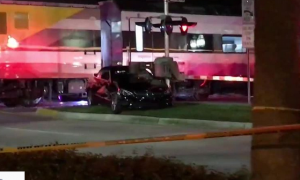 First emergency responders arrived the scene shortly after the crash happened. Jessica Desir, the public information officer for city police, said officers were called to the intersection of Camino Real and South Dixie Highway where a train hit a vehicle, leaving the occupant of the vehicle injured.
The injured elderly man was taken to Delray Beach Medical Center as a trauma alert, according to Desir. The intersection will remain closed as police investigate the scene.
In such a short amount of time, under 2 months, this is the seventh Brightline crash that has been reported.   Many communities that this train goes through want something done to correct this problem now.  Many are calling for the train to slow down as it passes through their communities.  They are even doing what they can to pass laws.  If they are successful it may be a factor in the success of this new train service.
Attorney Jason Weisser of Schuler, Halvorson, Weisser, Zoeller and Overbeck responded to this accident:   "It is a unfortunate that there have been so many accidents with Brightline trains.  The trend is continuing with this latest accident.   Please always observe all posted signs whether you are driving a car, riding a bike or walking.  If you were injured in an accident and want to discuss your rights, please contact my office for a free consolation".
Powered by WPeMatico