Car Crashes Into Gas Tanker Truck Causes Injury To Driver In Miramar
One man sustained serious injury after his car crashed into a gas truck on Red Road.  Traffic in all directions stopped.
At this time it is unknown what caused this accident in west Broward County.  The crash happened on Red Road very close to the Florida Turnpike entrance.
José Gregorisch, a public information officer for the Miramar Police Department, said the victim was transported by helicopter to a local hospital, where he was listed in critical condition.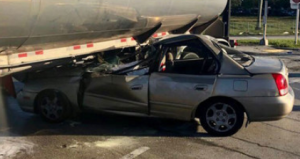 A photo from the scene showed the front of a silver sedan crushed underneath the tanker truck.   It is fortunate that the crash didn't cause anything on the tanker to catch fire.  It also did not leave a large spill on the road.  The accident does have Red Road closed to all traffic while the scene is cleared.
The Miramar Police Department are asking you to take an alternate rout around this accident.  The best choice is if you are heading north or south is to take South Flamingo Road.  If you are heading east or west you are advised to take Miramar Parkway to avoid stopped traffic.
Attorney Jason Weisser of Schuler, Halvorson, Weisser, Zoeller and Overbeck comments on this accident with a critically injured man in Miramar, Florida: "This is a serious accident that has left one man in critical condition.  We hope that the he and the family can quickly find out the cause of the accident.  If you've been injured in an accident, make sure you are properly represented by an experienced trial accident attorney."
The post Car Crashes Into Gas Tanker Truck Causes Injury To Driver In Miramar appeared first on Traffic Center.
Powered by WPeMatico