Failure to Yield Ends In Two Vehicle Accident In SW St. Lucie West Boulevard
A wreck on SW St. Lucie West Boulevard has killed an elderly woman and injured five others, including two children.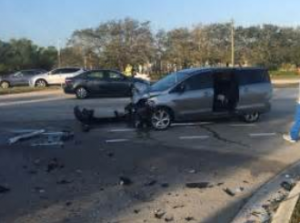 According to police, an elderly woman was riding in the front passenger seat of a Toyota Camry when it collided with a Nissan SUV. She was pronounced dead on the scene.
Two children, ages 9 and 11, and the driver along with the two people in the SUV were all taken to area hospitals. The youngest child was airlifted to St. Mary's Medical Center with serious injuries. The others were taken to Lawnwood Medical Center.
The Camry was traveling westbound and attempted a left turn onto SW California Boulevard in front of the Nissan Rogue SUV. The SUV struck the car on the front passenger door, according to police.
"This looks like a failure to yield the right of way," said Port St. Lucie police spokesman Master Sgt. Frank Sabol. Port St. Lucie police's traffic homicide division is investigating the SW St. Lucie West Boulevard accident.  Preliminary investigation has revealed that the green light was activated for east/west traffic on St. Lucie West Boulevard. However, the driver did not have a green arrow, only the solid green, which requires drivers to yield to oncoming traffic before turning.
No charges have yet been filed in the crash as the investigation remains ongoing. This isn't the first fatal wreck at that intersection either, according to Sabol. A motorcyclist was struck and killed recently when an SUV attempted to make a turn onto SW California on a yellow light.
Comments:
Accident attorney Jason Weisser of Schuler, Halvorson, Weisser, Zoeller and Overbeck responded to this unfortunate crash.   "This is a serious accident involving two vehicles, which ultimately, resulted in the death of an elderly woman and injured five others, including two children. We wish the victims a speedy recovery and hope the investigators can quickly determine what caused the accident. Please be careful and obey the speed limits whenever you are driving a motorcycle, car, SUV or truck. We hope that all parties involved consult with an experienced trial lawyer. If you have been injured in an accident, call my office for a free consultation and find out what your rights are."
Powered by WPeMatico