Fiery Crash on Florida's Turnpike in Broward Kills Two
andA fiery rollover crash involving a semi-truck and a car has shut down a section of Florida's Turnpike in Broward County. The crash happened in the southbound lanes of the Turnpike in Coconut Creek.
A male driver and female passenger were traveling southbound inside a BMW on the Turnpike on Coconut Creek when a speeding semi truck crashed into the 2016 BMW car.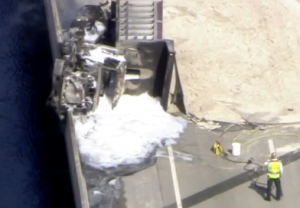 Florida Highway Patrol made a statement about the crash.  They said that the two occupants of the BMW died after the semi truck driver lost control at high speed. The BMW split into two and then erupted into flames.  The driver and passenger killed upon impact  in the crash.
Witnesses at the scene said the driver was going extremely fast when he lost control.  This was in the southbound lanes of the Turnpike.  Footage showed the semi truck and the split BMW on its side as firefighters worked to extinguish the flames. The fire was put out. Investigators are trying to figure out the names of those victims, who they say died instantly.
The crash had the southbound lanes of the Turnpike closed between Coconut Creek Parkway and Atlantic Boulevard.
The cause of the crash was unknown.  Investigators have not concluded whether drugs or alcohol may have been a factor, but they cautioned drivers to drive safely.
Palm Beach County attorney Jason Weisser of Schuler, Halvorson, Weisser, Zoeller and Overbeck responded to this unfortunate car accident:   "This is a major accident that caused the death of two adults.  We hope for the families sake that the investigation is quickly finished.  In our practice we've seen many cases were the liability was on the owners and drivers of commercial vehicles.  Please be careful whenever you are driving a motorcycle, car, SUV or truck.  If you have been injured in an accident, call my office for a free consultation to find out what are your rights".
Powered by WPeMatico