Fiery Two Vehicle Accident On I-95 Kills One, Injures Two
A fiery crash caused by tire tread malfunction on southbound Interstate 95 killed one man and seriously injured two others, a Florida Highway Patrol traffic report shows.
The two-vehicle crash involving a semi truck and sports utility vehicle happened in Broward County, at Pembroke road in Hollywood.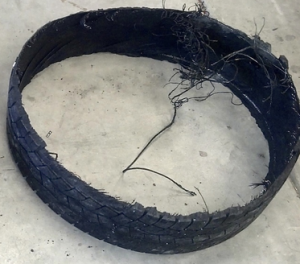 The 63-year-old truck driver, from Boca Raton, was pronounced dead at the scene of the accident. Troopers are waiting to inform the man's family before releasing his identity. The driver of the SUV and a passenger were taken to the Regional Medical Center in Hollywood. Both have serious injuries.
Troopers said the truck driver was traveling southbound on I-95 near Hollywood when the tire tread on the vehicle separated. The truck driver lost control and slammed into the back of the SUV, the report shows. The impact jolted both vehicles toward the median and over the center guardrail. The semi-truck flipped, burst into flames and spilled thousands of chemicals in the roadway.
Alcohol is not a factor of the crash and all three people involved were wearing seat belts, troopers said. Two right lanes were blocked as a result of the accident. This is a vehicle accident with injuries and roadblock, an FHP spokeswoman said.
FHP is still investigating the crash and had shut down I-95 in both directions for several hours while they were investigating this crash.
Attorney Jason Weisser of Schuler, Halvorson, Weisser, Zoeller and Overbeck responded about the crash.  "Cases involving accidents with commercial trucks are always subject to heightened scrutiny because of the additional regulations placed on drivers of those vehicles. Unfortunately in our practice,  we have seen numerous instances where drivers blatantly violate these regulations, which results in catastrophic consequences. If you have been injured in an accident, call my office for a free consultation to find out what are your rights."
Powered by WPeMatico