Florida Parking Lot Car Accident Attorneys
Parking lot car accidents in Florida are more common than you might think. The National Safety Council (NSC) reports that tens of thousands of accidents occur in parking lots and parking garages annually across the country. Further, the New York Post reports that Florida's population grew by 211,000 between July 2020 and 2021. Having a higher number of residents means more drivers on the roads and more drivers vying for prime parking spots.
If you have been injured in a motor vehicle accident in a parking lot or parking garage, you know that these low-speed incidents can cause injuries that are just as serious as any other type of car crash. The Florida parking lot attorneys of Schuler, Weisser, Zoeller, Overbeck & Baxter P.A. could help get you the money you may be entitled to if you were injured in a parking lot or parking garage due to another person's negligence. Don't let time run out. Call our Florida car accident attorneys at 561.689.8180, or contact us online today to find out how we can help.
Types of Parking Lot Accidents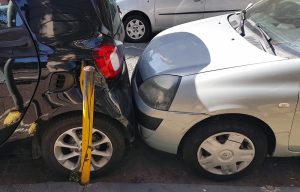 Accidents are common in parking lots because drivers go in multiple directions, back up, and make abrupt turns. Here are some everyday situations that can result in a parking lot crash:
A driver pulls out of a parking space into oncoming traffic
Two drivers back into each other
A driver hits another car or a pedestrian when turning or failing to stop
Two drivers attempt to pull into the same parking spot
A driver might not see a bicyclist or a pedestrian
Small children pose a unique hazard because of their small size and tendency to move suddenly in unexpected directions
What Can Lead to a Parking Lot Accident?
Distracted driving continues to be one of the leading causes of motor vehicle accidents across the country. According to the NCS, using a cell phone while driving increases the risk of causing a car crash by four times. Of course, many other things can lead to an accident in a parking lot or garage:
Confusing directional signs or no signs at all
Aggressive, impatient drivers
Poorly lit or poorly designed parking areas
Improperly maintained driving and parking surfaces (e.g., potholes that haven't been repaired)
Drivers who do not properly yield the right of way to other drivers or pedestrians
Inattentive pedestrians who are not paying attention to where they are walking nor to oncoming traffic
Driving in the wrong direction down a parking lane
Driving faster than is appropriate
Types of Injuries Caused in Parking Lot Accidents
While parking lot accidents typically occur at low speeds, they can cause substantial injuries, particularly to pedestrians. Here are some examples of injuries that might be compensable:
Soft tissue injuries, such as whiplash and damage to the mid to lower back, are common in car accidents.
Chest injuries can result when a passenger collides with the steering wheel or dash or from the force of the seatbelt. Injuries may include broken ribs or internal injury, such as a punctured lung.
Head injuries can be particularly dangerous. Some injuries, such as concussions, may be temporary, but more severe impacts can cause long-term brain injury.
Broken bones are also common after an accident. Some breaks, such as hairline fractures, may not be felt or noticed immediately.
No-Fault Car Insurance in Florida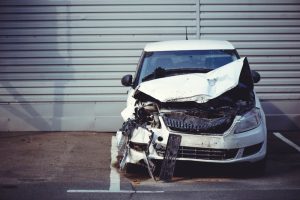 Florida is a "no-fault" state when it comes to car insurance. This means your own insurance will pay for your medical bills or other losses, regardless of who might have caused the accident. However, finding fault for a parking lot accident is necessary when damages exceed the $10,000 Personal Injury Protection (PIP) automobile insurance required by the state of Florida.
In addition, collecting compensation for non-economic, intangible losses, including pain and suffering, can be a challenge. This is why you need the experienced attorneys of Schuler, Weisser, Zoeller, Overbeck & Baxter P.A. on your side. If you or someone close to you has been injured in a parking lot accident, you may be entitled to compensation over and above what your PIP insurance covers. If you have pressing questions about your case, don't hesitate to contact our legal team today.
What Happens After a Parking Lot Accident?
If you are involved in a parking lot accident, it's essential to document the details surrounding the incident to the greatest extent possible. Here are some steps to take:
The first thing to do after a parking lot accident is to call the police and start a report. Florida state law requires you to report an accident immediately if it caused death, injury, or property damages of more than $500.
Talk to everyone involved and obtain their contact information. If possible, ask witnesses to report what they observed to the police.
Take photos of what caused the crash and the damage that was sustained. Dashcam footage and parking lot security videos are also helpful tools the police may utilize.
It is imperative to seek medical evaluation promptly if you were injured, even if it initially seems to be only a minor problem. Some injuries can take days or even weeks to show up.
Within ten days of the accident, you must file a car crash report with the Florida Department of Motor Vehicles.
You will want to contact the experienced parking lot accident attorneys at Schuler, Weisser, Zoeller, Overbeck & Baxter P.A., who will show how your accident occurred and file a personal injury claim or lawsuit on your behalf.
Why Hire Schuler, Weisser, Zoeller, Overbeck & Baxter P.A.?
Although it's possible to file an insurance claim without a lawyer, most people don't know what to do after their PIP coverage has paid the maximum benefits. An experienced car accident attorney like the ones from Schuler, Weisser, Zoeller, Overbeck & Baxter P.A. knows how to determine whether you're qualified to file a claim against the at-fault party's insurance company because your injuries meet the "serious injury threshold." Additionally, we have the know-how to bring your case to court should settlement negotiations fail. Our results speak for themselves.
If you're worried about how you might be able to afford an attorney when your budget is already stretched from the new medical bills pouring into your mailbox, don't be. We take cases on a contingency-fee basis. That means you pay nothing upfront. When we get compensation for you, we'll take an agreed-upon percentage for our fee. If we don't get you any money, we don't get paid. Contact us today.
Contact a Knowledgeable Florida Parking Lot Automobile Accident Attorney Today
In Florida, you have four years after a car accident in which to pursue a lawsuit. The idea of pursuing legal action can be daunting, confusing, and overwhelming. Don't go it alone. The compassionate attorneys of Schuler, Weisser, Zoeller, Overbeck & Baxter P.A. are here to help you get the maximum amount of compensation you may be entitled to. Call us today at 561.689.8180, or reach out to us online for your complimentary case evaluation.