Florida's picturesque coasts and enticing waters make it a prime destination for those seeking memorable cruise vacations. Thousands set sail from Florida ports every day, eager to experience relaxation, entertainment, and the thrill of the open sea. But not every voyage ends with cherished memories. Sometimes, passengers and crew members suffer severe harm in unexpected accidents. That's when they need a cruise ship accident lawyer in Florida.
If you or someone close to you was injured in a Florida cruise ship accident, you could be entitled to compensation for your injury-related losses. The knowledgeable attorneys at Schuler, Weisser, Zoeller, Overbeck & Baxter P.A. can help you get it. To learn more about your options, please call us at 561.689.8180 for a free initial consultation.
Common Types of Cruise Ship Accidents
Cruise ships offer an array of amenities and entertainment options. But they also present hazards that can lead to injuries if passengers and crew aren't careful. Common examples include the following:
Slips and falls on wet decks
Trips over uneven surfaces or obstacles
Accidental falls overboard
Food poisoning incidents
Elevator or escalator malfunctions
Burns from hot surfaces or substances
Swimming pool or water slide accidents
Falling objects or luggage accidents
Collisions with other vessels or objects
Fires or explosions onboard
Accidents during shore excursions
Exposure to toxic substances or fumes
Physical altercations or assaults
Infections from unsanitary conditions
Common Causes of Cruise Ship Accidents
Below are some prevalent causes of cruise ship injury accidents:
Wet or slippery decks
Inadequate lighting
Lack of proper signage or warnings
Mechanical failures
Negligent ship maintenance
Faulty equipment or machinery
Inadequate staff training
Overcrowded venues or facilities
Unsafe food handling or storage
Structural defects on the ship
Lack of safety barriers or railings
Broken or malfunctioning doors
Unsafe onboard activities
Intoxication or substance impairment
Lack of emergency preparedness
Inadequate security measures
Is a Cruise Line Liable for a Cruise Ship Accident?
Cruise lines have a duty to ensure passenger safety during their journeys. When an accident occurs, a cruise line can be liable if the accident resulted from its negligence or if the ship was unseaworthy. Possible examples of cruise line negligence might include failing to maintain safe conditions, providing inadequate security, or not properly training the crew.
Passenger ticket contracts, which establish the legal relationship between passengers and cruise lines, can outline scenarios in which the cruise line accepts liability. However, these contracts often have clauses limiting cruise line liability, so it's important for passengers to read and understand them thoroughly. If passengers can establish cruise ship liability after an accident, they can demand compensation for their accident-related losses from the cruise line.
What Laws Must Cruise Ships Follow in Florida to Ensure the Safety of Passengers?
Cruise lines are subject to numerous laws and regulations aimed at ensuring passenger safety, including:
Maritime Law: A specialized branch of law governing navigational and marine matters. Maritime law sets forth safety standards, mandates ship owner responsibilities, and requires the proper maintenance of vessels to minimize onboard accidents and injuries.
Cruise Safety Act of 2010: This Act enforces stringent safety protocols on cruise operators. Among its stipulations are requirements for enhanced fire safety measures, peepholes and security latches on cabin doors, and technology to detect passengers falling overboard.
Passenger Ticket Contracts: Every passenger cruise journey commences with this contract. It outlines the responsibilities of the cruise line in terms of ensuring passenger safety. This includes measures like adherence to maintenance schedules, execution of safety protocols, and conducting safety drills.
Popular Cruise Lines in Florida
Florida, with its strategic location and bustling ports, serves as a major hub for the global cruise industry. Many renowned cruise lines set sail from Florida, including the following:
Cruise Ship Injury Statistics
Cruise vacations offer a mix of relaxation and adventure, but like any form of travel, they are not without risks. Here are some eye-opening cruise ship injury statistics from research spanning 2000 to 2019:
Total Cruise Ship Deaths
There were 623 reported fatalities aboard cruise ships during this period. Out of these, 557 were passengers, and 66 were crew members.
A significant 87 percent of these deaths took place while the ships were at sea. The remaining 13 percent occurred while ships were docked.
Top Causes of Death
Cardiac Incidents: Ninety-seven people died from cardiac incidents on cruise ships during this period. This could be due to the cruise-going demographic, with many passengers between 50 and 79 years old.
Accidental Falls Overboard: Accidental falls overboard killed 72 people. Slips, trips, and falls rank as the leading accident types on cruises.
Jumps Overboard: Sixty people died from jumping overboard on cruise ships.
What to Do If You Are Injured on a Cruise Ship
Embarking on a cruise ship journey is generally a time of relaxation and enjoyment. However, accidents can and do happen. If you get hurt while on a cruise, here's what you should do to protect yourself:
Seek immediate medical attention for your injury.
Follow the ship doctor's advice and treatment recommendations.
Report the injury to the ship's personnel.
Document details of the incident, including time, location, and potential witnesses.
Take photographs of the injury and the area where it occurred.
Preserve any potential evidence related to your injury.
Request a copy of your medical report from the ship's doctor.
Avoid signing any waivers or statements provided by the cruise line without legal advice.
Maintain a diary of your symptoms and recovery progress.
Save any correspondence or documents you receive from the cruise line.
Inform your travel insurance provider about the injury.
Consult with a maritime injury attorney in Florida.
Keep all receipts related to medical expenses.
Avoid discussing the incident or your injury on social media.
Disappearances on Cruise Ships
Cruise lines are responsible for ensuring passenger safety and must actively work to minimize the risk of disappearances. Many ships use surveillance systems, like cameras, which monitor public areas and can quickly detect unusual activities. Furthermore, rigorous crew training is necessary to ensure staff can recognize potential risks and act swiftly.
In the rare instance of a disappearance, an immediate ship-wide search occurs to find the missing individual. If the person cannot be located onboard, cruise lines must notify maritime authorities to kickstart a search and rescue operation. This often involves collaboration with local coastguards and other nearby vessels.
What If Seamen or Crew Members Are Injured in a Cruise Ship Accident?
When seamen or crew members sustain injuries on cruise ships, specific laws like The Jones Act come into play. The Jones Act, formally known as the Merchant Marine Act of 1920, safeguards the rights of seamen who get hurt on the job. It allows injured seamen and crew members to pursue compensation from their employers for work-related injuries. The law emphasizes employer liability for any injury arising from negligence or unseaworthiness of a vessel.
Injured crew members can file claims seeking compensation for medical expenses, lost wages, and pain and suffering, depending on the circumstances. Crew members should promptly report injuries and seek immediate medical attention if they get hurt onboard. If you get hurt while working aboard a sea vessel, you should also work with a knowledgeable maritime attorney to understand the extent of your rights.
Do I Need a Lawyer for a Cruise Ship Accident?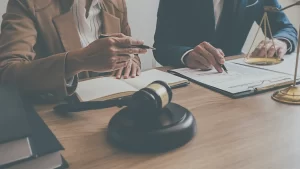 Cruise ship accidents can be traumatic and overwhelming, but a lawyer can provide the support you need as you take your next steps. Here are just a few of the ways an attorney can help:
Conducting an independent investigation into the cruise ship accident
Identifying all liable parties and sources of compensation for your losses
Gathering crucial evidence to support your claim
Consulting medical experts to determine the extent and long-term impacts of your injuries
Calculating the total worth of your claim, including future medical expenses
Analyzing the passenger ticket contract for potential contractual liabilities
Reviewing safety protocols and maintenance records of the ship
Negotiating settlements with the cruise line or their insurance providers
Drafting and filing a comprehensive lawsuit if negotiations stall
Demanding maximum compensation for your injuries, pain, and suffering
Cruise Ship Injury FAQs
Below, we delve into some of the most frequently asked questions we receive about cruise ship accident injury cases in Florida.
What is the statute of limitations for a cruise ship injury?
The statute of limitations for cruise ship injuries can vary, but you have one year to file most personal injury lawsuits in Florida. However, this filing window might vary based on factors like the details on your passenger ticket contract or the jurisdiction in which you file. To avoid jeopardizing your right to seek compensation, you should consult a cruise ship attorney as soon as possible.
How much is a cruise ship injury case worth?
The potential value of a cruise ship injury case hinges on numerous factors. These include the severity of your injuries, current and future medical expenses, and any earnings lost due to the incident. Other considerations could include the circumstances leading to your injury and the extent of the cruise line's negligence. An experienced attorney can review your case and provide an informed estimate of its value.
Do I have a case?
Understanding if you have a viable case requires a thorough assessment of the incident and its aftermath. Key factors to consider include the events leading up to your injury, the nature and extent of your injuries, and any evidence suggesting the cruise line is at fault. A maritime attorney can analyze all relevant evidence and provide a clearer picture of your legal standing.
Reach Out to a Cruise Ship Accident Lawyer in Florida Now
Hurt on a cruise ship? Get in touch with a cruise ship accident lawyer in Florida now. Contact Schuler, Weisser, Zoeller, Overbeck & Baxter P.A. online or call us at 561.689.8180 to arrange your free case evaluation.
Related Reading: