Flu-Stricken Baby Killed In Car Accident On Way To Hospital
A 6-month-old boy battling the flu died in his mother's arms in Broward County after a family member ran a red light and collided with another car during a desperate attempt to rush the baby to the hospital, police sources said.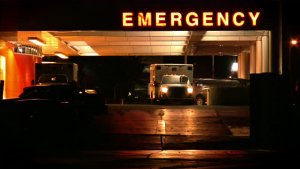 The baby was in his nursery when his mother checked on him and discovered he was unresponsive and barely breathing, according to police.
A family member who lives near her home drove them to Delray Medical Center.
In their rush, the family member ran a red light at and was struck by a 2008 Jeep Liberty heading north on Broadway, police said.
The baby's mother, who was sitting in the back seat with her ailing son, was on the phone with her husband when the accident occurred.
My wife was actually explaining to me what was wrong with him, but as she's explaining his symptoms I hear, 'Ahhh!'" her husband told the police. "There was yelling and screaming, so I waited and waited because I knew that if I hung up the phone, I wouldn't have been able to call back. She finally gets on the phone and says, 'We were in a car accident.'"
The baby's mother said her cousin swerved to avoid another car after running the light when the Jeep struck her car. The mom said the crash was not serious, but one neighbor said the impact was so loud it shook his ceiling lamp.
"All the sudden I hear this loud crash," the neighbor said "It was so intense it made my chandelier sway. I thought maybe someone hit a building or something. But then I saw there had been an accident."
Both drivers remained on scene and no arrests had been made yet.
The child was taken to Delray Medical Center, but it was too late.
"When I got there, they told me my son is gone," said his 41-year old dad. Police did not immediately confirm how the child died, but hinted it was from complications from his illness and not the crash.
Comments:
Accident attorney Jason Weisser of Schuler, Halvorson, Weisser, Zoeller and Overbeck responded to this unfortunate crash. "This is a serious accident leading to the death of a toddler. Please be careful and obey the speed limits whenever you are driving a motorcycle, car, SUV or truck. We hope that all parties involved consult with an experienced trial lawyer. If you have been injured in an accident, call my office for a free consultation and find out what your rights are."
Traffic and Accident News Provided By Traffic Center News
Powered by WPeMatico