Four Injured In Traffic Accident Near Biscayne Park
A two-car crash near the intersection of Western Dixie Highway and Griffing Boulevard has left four people injured, the Miami Dade Police Office said.
The site of the crash is near Griffing Park in North Miami.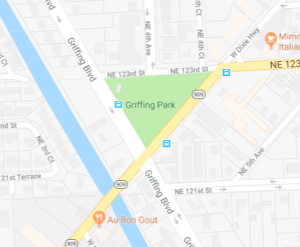 A driver lost control of his car and crashed into another car while driving South on Dixie Highway in Miami-Dade.
According to an eyewitness report, the other driver who had the right of way couldn't stop fast enough to prevent the crash.
First responders arrived promptly to the crash site to rescue the crash victims. One person is critically injured while others sustained mild to moderate injuries.
The injured victims have been transported to the trauma unit by the authorities.
The severity of the crash and rescue of victims has led to serious traffic congestion. Commuters on this route are currently held in traffic jam.
Cars are seen pulling into nearby Griffing Adult Center's parking lot. Others close to the crash site are taking a detour through NW 123rd Street.
To avoid delays, we suggest that you avoid this route and take alternate routes. A good alternate route to use in this case is NE 6th Avenue or NE 125th Street.
Attorney Jason Weisser of Schuler, Halvorson, Weisser, Zoeller and Overbeck comments on this accident two injured:  "This is a serious accident that unfortunately had resulted withmany injured.  We hope that it wasn't caused by distracted driving.  If you've been injured in an accident, make sure you are properly represented by an experienced trial accident attorney."
The 3 Areas of Distracted Driving
Distracted driving is generally broken down into the following three categorie
Visual – taking your eyes off the road.
Manual – taking your hands off the wheel.
Cognitive – taking your mind off driving. 
Talking on your smart phone, playing with a navigation system, eating food from a drive through or applying a fresh coat of lip gloss can all be forms of distracted driving. However, texting while driving is the most serious form of distracted driving.  It combines all three of the categories above. Visual, because you're looking at your phone and not the road.  Manual, because one or possibly both hands are off the wheel tapping out a message. Also cognitive, because as you're composing a message and you aren't thinking about the road ahead of you.
The post Four Injured In Traffic Accident Near Biscayne Park appeared first on Traffic Center.
Powered by WPeMatico