Four Injured In Two-Vehicle Accident on Northlake Boulevard In Western PBC
Four people suffered serious injuries after the sport utility vehicle they were in collided with a tractor trailer near the Acreage, Palm Beach County Sheriff's office said.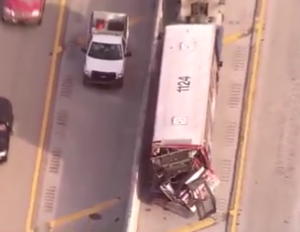 The preliminary investigation revealed that the tractor trailer was traveling west on Northlake Boulevard at the time of the accident. It then collided with a northbound SUV that failed to stop at the intersection of Hall Rd. The impact pushed the SUV off the road, causing serious damage to the SUV's driver side. The female SUV driver, her two children, and the driver of the tractor trailer all suffered injuries.  They were taken to the hospital.
Motor Vehicle Accidents involving a large vehicle, such as a commercial tractor trailer, are known to cause catastrophic and even fatal injuries to the occupants of the smaller vehicle involved, Sheriff's Office stated.
Reports said the SUV driver failed to stop, but the investigation does not end there. A thorough investigation is ongoing at this time.  It will try to determine who caused the accident.  It will also try and see if any other laws were broken.  They could possibly be fatigue driving, poor vehicle maintenance, distracted driving, or drunk driving.
The car accident snarled traffic on Northlake Boulevard.  Drivers are advised to make use of alternative routes.
Comments:
West Palm Beach personal injury attorney Jason Weisser of Schuler, Halvorson, Weisser, Zoeller and Overbeck responded to this unfortunate crash:   "This is serious accident with four people that were reported injured in West Palm Beach.     If the reports prove to be correct, it was indicated that the driver of the SUV caused the accident.  She would possibly be liable for the crash.  We hope that it will be quickly discovered. Please be careful and obey the speed limits and traffic lights whenever you are driving a motorcycle, car, SUV or truck. This is especially true when there are children in the area.  We hope that all parties involved consult with an experienced trial lawyer.  If you have been injured in an accident, call my office for a free consultation to find out what are your rights".
Powered by WPeMatico