Four lanes blocked on I-95 after crash in West Palm Beach
A car crash on I-95 NB at 45th Street has blocked four right lanes of traffic.
The two-car crash has injured 3 adults and one died at the scene.  One of the three injured has sustained a serious injury, according to authorities.
First emergency responders are at the crash site.  The injured victims are being transported to the hospital.
According to Fire Rescue, four lanes blocked on I-95 at this time.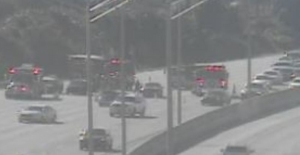 The removal of the car wreck from the driving lanes is proving to be difficult. This is a vehicle crash with injuries that has blocked the 4 lanes of I-95 highway southbound, the Florida Highway Patrol is reporting.
The delay of traffic on this route is due to the severity of the crash.  Vehicles on this route are pulling to the roadside to allow crews work. It is best to exit I-95 at Northlake Blvd Heron Blvd from the north or Palm Beach Lakes Blvd from the south.
Please drive with caution and stay safe.
Attorney Jason Weisser of Schuler, Halvorson, Weisser, Zoeller and Overbeck comments on this accident:  "This is a serious accident that unfortunately has sent victims to the hospital with injuries and had one death.  It is unclear what caused this accident.  Please don't be distracted when you are behind the wheel of a car, truck or SUV.   We hope that the victims retain proper legal council to represent them.  If you've been injured in an accident, make sure you are properly represented by an experienced trial accident attorney."
The post Four lanes blocked on I-95 after crash in West Palm Beach appeared first on Traffic Center.
Powered by WPeMatico