Four-truck Crash and Fuel Spill Close I-95 In West Palm Beach
Crashes among two tractor-trailers, a gas tanker truck, and a dump truck resulting in a fuel spill halted traffic on I-95 in Palm Beach County, officials said.
The collisions began when a man, 44, drove a tractor-trailer south along the highway. "For unknown reasons, the driver lost control and crossed the grassy median and the tractor-trailer fell on its side in the northbound lanes," FHP spokeswoman said.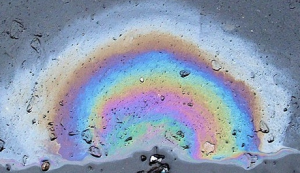 A gas tanker truck was traveling north when it struck the trailer and also overturned, spilling its cargo, FHP said.
Following in the northbound lanes were the tractor-trailer and the dump truck. Both vehicles collided with the overturned tractor-trailer, according to FHP.
Palm Beach County Sheriff Fire Rescue paramedics treated one driver for an unknown medical condition and took him to the hospital. A large spill of an unknown amount of fuel covered the crash scene.
Firefighters sprayed a blanket of foam over the fuel to subdue flammable vapors. Firefighters and crews trained in hazardous materials and technical rescue — more than 40 responders — were at the scene. The Florida Highway Patrol said cleaning crews would are on the scene.  They are advising drivers to watch out for workers in the area.
An empty tanker truck arrived to unload fuel that was still contained within the gas tanker truck. Drivers were warned to avoid the highway as the northbound lanes were closed, authorities said.
The cause of the crash remains under investigation, FHP said.  This story will be updated when more information becomes available.
Commnets:
Palm Beach County attorney Jason Weisser of Schuler, Halvorson, Weisser, Zoeller and Overbeck responded about the crash.  "Cases involving accidents with commercial trucks are always subject to heightened scrutiny because of the additional regulations placed on drivers of those vehicles. Unfortunately in our practice,  we have seen numerous instances where drivers blatantly violate these regulations, which results in catastrophic consequences".
The post Four-truck Crash and Fuel Spill Close I-95 In West Palm Beach appeared first on Traffic Center.
Powered by WPeMatico