I-95 Crash Sends Man To The Hospital In North Miami-Dade County
A man from Hialeah was flown in a helicopter to a hospital for life-threatening injuries after he collided with another vehicle on Interstate 95 near the Golden Glades Interchange.
The crash involved a BMW and a semitrailer.  According to Florida Highway Patrol, the 69-year-old man from Hialeah was driving in a BMW in the right northbound lane behind a dump truck but ahead of a semitrailer.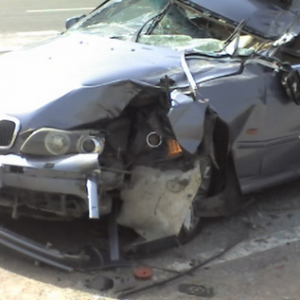 In an attempt to move past the BMW, the semi trailer struck the car in a side brush manner at the driver's side. The impact caused the BMW driver to lose control. He veered off the lane, striking a road median in the process. This resulted in a near-fatal crash with the man stuck in the car.  The dump truck was not affected by the crash.
First responders pried open the bashed car with Jaws of Life in order to free the trapped victim. The victim was later airlifted to the hospital.  The northbound lanes of the interstate are currently closed while crews clean up the debris. The road closure due to the severity of the crash is causing traffic delays.
The Florida Highway Patrol was assisted by the Miami-Dade County Police Department.  Also responding was, Miami-Dade Fire Rescue, and the Florida Highway Patrol.
The crash remains under investigation. Please drive with caution and stay safe.
Florida accident attorney Jason Weisser of Schuler, Halvorson, Weisser, Zoeller and Overbeck responded to this unfortunate accident:   "This is a tragic accident here in North Miami-Dade.  The crash occurred in one the most dangerous stretches of  I-95 (by the Golden Glades Interchange).  We hope for the families sake the investigation is both quick and thorough.   We also hope that the injured call an experienced trial lawyer.  Please be careful whenever you are driving a motorcycle, car, SUV or truck.  If you have been injured in an accident, call my office for a free consultation to find out what are your rights".
The post I-95 Crash Sends Man To The Hospital In North Miami-Dade County appeared first on Traffic Center.
Powered by WPeMatico