J. Gerald Smith, 82, Killed In Two-Vehicle Crash In Delray Beach
An Uber driver, J. Gerald Smith, was killed when a speeding Lamborghini struck his SUV in Delray Beach, police said.
The fatal accident happened at Northeast Sixth Avenue and Northeast First Street in Delray Beach. Delray Beach police said Smith was traveling in a Buick Enclave vehicle and was preparing to cross the intersection when it was struck by a yellow Lamborghini. Police said Smith had stopped at the stop sign prior to the crash. He was pronounced dead at the scene, police said.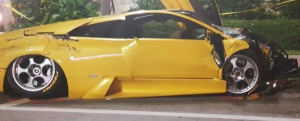 First emergency responders arrived shortly after the crash happened. The driver of the Lamborghini was taken to Delray Medical Center, where he was listed in serious condition. Police said prior to the accident, the Lamborghini driver and his girlfriend had spent the afternoon wining and dining before they left in separate cars.
Witnesses told police that they saw both cars speeding north on Northeast Sixth Avenue just before the crash. The posted speed limit is 35 mph. Investigators said she refused to provide a statement and had left her Porsche in the parking lot of a nearby restaurant following the crash.
Investigators believe that speed and alcohol were factors in the crash.
Attorney Jason Weisser of Schuler, Halvorson, Weisser, Zoeller and Overbeck comments on this multiple car accident in Delray Beach:  "This is a serious accident that unfortunately left one man dead.  If you've been injured in an accident, make sure you are properly represented by an experienced trial accident attorney."
Powered by WPeMatico