Kevin and Michele Livingston, of Tampa, Plunge Into Canal And Are Killed In SUV Crash On Alligator Alley
It appears that a blown tire was the cause of the accident.  The reason the tire blew out is still unclear.
The Tampa married couple was returning home from vacation when their SUV crashed in a canal in west Broward County.
The couple have been identified as Kevin Livingston, 42, and Michele Livingston, 35, both of Tampa.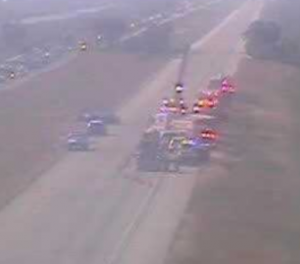 Florida Highway Patrol Sgt. Mark Wysocky said their vehicle was traveling west on Interstate 75 in western Broward County when the left rear tire's tread separated. The driver then lost control of the vehicle and veered off the highway before crashing into a canal.
After the vehicle left the road and went into the canal, several Good Samaritans attempted to dive into to the water to try and rescue the two. Unfortunately the water was too deep.
"The water's estimated to be about 40 feet deep in that area," Wysocky said.
The accident remains under investigation. It's unclear whether the two were wearing seatbelts when the crash took place.
Experts say that low tire pressure is the number one issue to leads to a tire blowing out. Low pressure causes more wear and tires are more likely to get punctured.
Every tire also has a wear bar so you can check to the condition.
In the event that your tire were to blow out, you are more likely to stay on the road by always having both hands on the steering wheel. Also don't jam on the breaks, but instead coast to a stop.
Meanwhile back in Tampa, family and friends are mourning the Livingstons.
According to Kevin Lingingston's day, his son was a veteran who survived two helicopter crashes. He met Michele in Japan and the two were planning to start a family.
Attorney Jason Weisser of Shuler, Halvorson, Weisser, Zoeller and Overbeck comments on this accident in west Broward County:  "This is a serious accident that unfortunately claimed two life's.  Please make sure you are regularly checking your tires for any wear or damage issues.   If you've been injured in an accident, make sure you are properly represented by an experienced trial accident attorney."
The post Kevin and Michele Livingston, of Tampa, Plunge Into Canal And Are Killed In SUV Crash On Alligator Alley appeared first on Traffic Center.
Powered by WPeMatico