Man Dead Following Fatal Train Crash In Oakland Park
A pedestrian died in freight train crash in Oakland Park.
The crash site is near West Prospect Road and Powerline Road.
This fatal accident involved a CSX freight train and a car, the Broward Sheriff's Office said.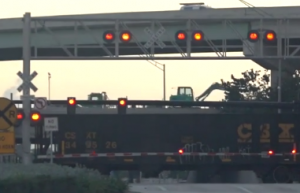 Westbound Commercial Boulevard currently closed to traffic as a result of the wreck. The closure is at the I-95 exit ramp.  Early reports are that one adult was injured and is receiving care from first responders.
The wreck has also affected several hundred passengers of the Tri-Rail commuter train system, Tri-Rail spokeswoman Bonnie Arnold said.
Recall that the Tri-Rail commuter train system shares tracks with CSX. Therefore, whatever affects CSX commuters affects Tri-Rail commuters as well.
Six buses conveyed passengers between two stations. From Cypress Creek Road and Broward Boulevard in Fort Lauderdale.
This accident has caused a delay in traffic. To avoid delay, we advise that you avoid Commercial Boulevard at I-95.
Other details about the fatal crash were not immediately available.
Attorney Jason Weisser of Schuler, Halvorson, Weisser, Zoeller and Overbeck comments on this accident involving a car and a train:  "We hope that the cause of this accident is quickly discovered.  At this time it is unclear if it was from malfunctioning train signals.  Or it could have been from distracted driving.   We hope that the answers are found quickly."
Railroad Crossing Information
Although rail incidents have declined over the last 10 years, railroad crossing fatalities spiked in 2014. Last year alone, 232 people died in railroad crossing accidents.  Approximately every three hours, a person or vehicle is hit by a train in the United States.
By law, trains always have the right of way because they cannot swerve, stop quickly, or change directions to avert collisions. A freight train traveling at 55 miles per hour takes a mile – the length of 18 football fields or more – to come to a stop once the emergency brakes are applied.
The post Man Dead Following Fatal Train Crash In Oakland Park appeared first on Traffic Center.
Powered by WPeMatico