Man On Bicycle Struck By Car In Miami Beach. Driver Is Suspected Of Driving While Impaired.
In Miami Beach today there was an accident with injuries involving a male driver that was arrested for driving impaired.
According to Miami Beach Police, the crash occurred along Dade Boulevard between Alton Road and Bay Road. Police transported the cyclist to Jackson Memorial Hospital with injuries.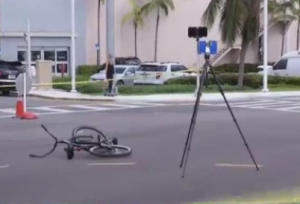 Police also stated that the driver of the car failed a field sobriety test.  He was immediately handcuffed and brought into police custody.  Miami Beach Police is currently conducting a complete investigation into how the actual accident occurred.
"Miami Beach Accident investigators are on scene, not only investigating the crash, but this is also a DUI investigation," said Miami Beach Officer Ernesto Rodriguez.
As of this time, four hours after the accident, the police still have the Alton Road and Dade Boulevard intersection closed while they are conducting their investigation.  This is a busy intersection of Miami Beach close to the Publix Super Market and the Chase Bank.  It is also where Alton Road crosses over the Collins Canal and where Dade Blvd turns into Venetian Way that heads over to Miami.
It is recommended that motorists avoid the area.  The best alternate routes are to take North Michigan Avenue and turn left onto Dade Blvd.   Or if possible take Meridan Avenue and cross over Dade Blvd to make sure you are getting around the scene of the accident.
Attorney Jason Weisser of Shuler, Halvorson, Weisser, Zoeller and Overbeck responded to this unfortunate accident in Miami Beach:   "It is especially troublesome and sad when a person on a bicycle is struck by a driver of a car that is suspected of driving impaired.  We hope that the cyclist doesn't have extensive or permanent injuries and he has a speedy recovery.  We also hope that if the driver, if found to be impaired, is prosecuted to the full extend of the law and that the cyclist is also compensated".
The post Man On Bicycle Struck By Car In Miami Beach. Driver Is Suspected Of Driving While Impaired. appeared first on Traffic Center.
Powered by WPeMatico