Man Struck and Killed By Car in West Palm Beach
A man from Lake Worth was hit and killed by a car at the intersection of South Dixie Highway and Lytle Street in West Palm Beach.
The crash happened at the intersection of South Dixie Highway and Lytle Street.  The driver, a woman from Lake Worth, was traveling northbound when the pedestrian was hit, according to West Palm Beach Police. The pedestrian may have been trying to cross the street at the time of the crash.  No alcohol or drugs were involved in this incident.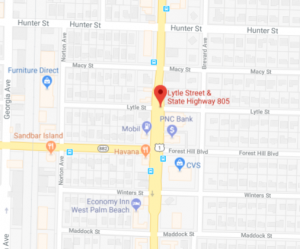 The driver made a statement to a West Palm Beach Police Officer.  She stated that she noticed the man walking in the middle of the road.  At she saw him right when she struck him. The driver stopped at the scene after she struck the man.  She also told investigators there were no street lights on the road.
Palm Beach County Fire Rescue crews pronounced the 41-year-old pedestrian dead at the scene.   First emergency responders arrived at the site of the crash soon after the crash happened.
Paramedics transported the victim from the scene of the crash. No ID was found on him which could be used to identify him, Fire Rescue Assistant Chief Alex George said. The police department is investigating the crash.
South Dixie Highway and Lytle Street were closed as investigators worked, George said. He expects the roads to open after 4 hours. Please take an alternate route around this crash were one man died.
Comments:
Accident attorney Jason Weisser of Schuler, Halvorson, Weisser, Zoeller and Overbeck responded to this unfortunate crash:   "This is a tragic accident and especially sad when a a pedestrian is hit by a car.   We hope that it can be quickly discovered what the cause was.  It is possible that the driver that caused the accident was distracted while behind the wheel but at this point that is unknown.  Please be careful whenever you are driving a motorcycle, car, SUV or truck. This is especially true when there are children in the area.  We hope that all parties involved consult with an experienced trial lawyer.  If you have been injured in an accident, call my office for a free consultation to find out what are your rights".
The post Man Struck and Killed By Car in West Palm Beach appeared first on Traffic Center.
Powered by WPeMatico