Man,18, Killed in Two-Car Crash
Police are investigating a crash in West Palm Beach that left one man dead and injured another

.
The two vehicles collided at the intersection of North Australian Avenue and 45th Street in West Palm Beach. Police say the two cars collided so
violently
, they flew into two parked cars.
Police say the victim was driving his four-door sedan northbound on Australian Avenue 186th street. While the other driver was heading eastbound on 45th Street when they crashed. This caused the victim to smash into two empty cars that were off to the side of the road.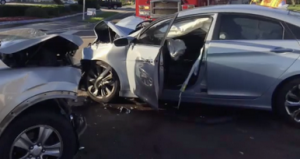 The vehicle driven by an 18-year-old driver bent in half and smoking from the impact.
"It was like a big bomb blew off and I ran outside – multiple-car accident," said an eyewitness.
"Several people called 911, and we tried our best to keep the victim talking until the ambulance came." " It was horrible. He was bleeding blood all over," neighbors said.
Eventually
, firefighters had to cut him out. They rushed him to the local hosipital, but he later died.
His heartbroken family visited the scene. They were too distraught to talk as they saw bits and pieces from his car scattered all over the street.
The other driver, a 21-year-old man, had minor injuries but refused medical attention at the scene
. One witness said it was the worst accident she's seen. Neighbors also said crashes happen far too often at the intersection.
This crash has led to a block of two lanes, delaying traffic.
Attorney Jason Weisser of Schuler, Halvorson, Weisser, Zoeller and Overbeck comments on this accident in with one dead in West Palm Beach:  "This is a serious accident that unfortunately claimed a life.  We hope that the family can quickly find out the cause of the accident so they can get some closure . If you've been injured in an accident, make sure you are properly represented by an experienced trial accident attorney."
The post Man,18, Killed in Two-Car Crash appeared first on Traffic Center.
Powered by WPeMatico